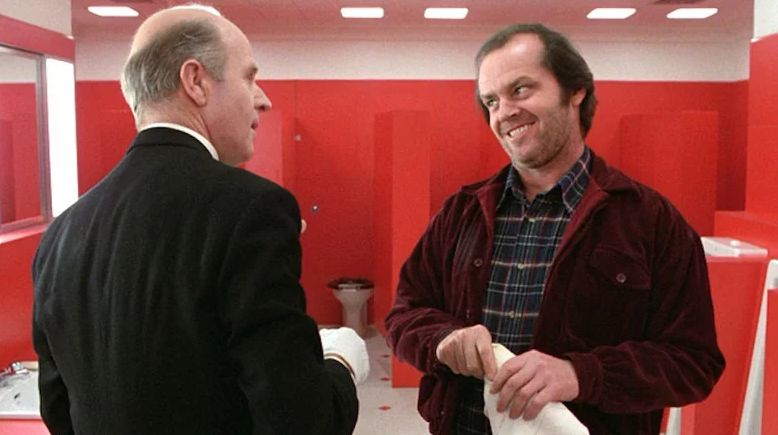 Red. It's the color red. Stanley Kubrick utilizes specific color palettes in all of his color films. From 2001: A Space Odyssey to Eyes Wide Shut, he uses different colors to show various states of being. For his horror film The Shining, Kubrick seems to have picked the color red– as it was more than prominent throughout the film. The color becomes the harbinger of doom, as Looper details:
[…]As utilized by Kubrick in "The Shining," red becomes a harbinger of impending doom permeating every almost corner of the cursed Overlook as if blood itself were seeping through the haunted structure's every crevice.
The culmination of that dramatic color palette is depicted in one of the film's most iconic scenes, when blood literally spills through the bright red doors of an elevator. As unforgettable as that scene is, the color is far more integral from a narrative standpoint in "The Shining" in the men's room of the hotel bar, where the walls are painted a vibrant red. That is, after all, where many believe Jack fully gives over to the blood-lusting spirits within the hotel and possibly those already within himself.
The next time you're sitting down to endure another blood-curdling screening of "The Shining," see how much red you can spot before, ya know, the red stuff really starts to flow.
image credit: Warner Bros. Pictures
Source: neatorama