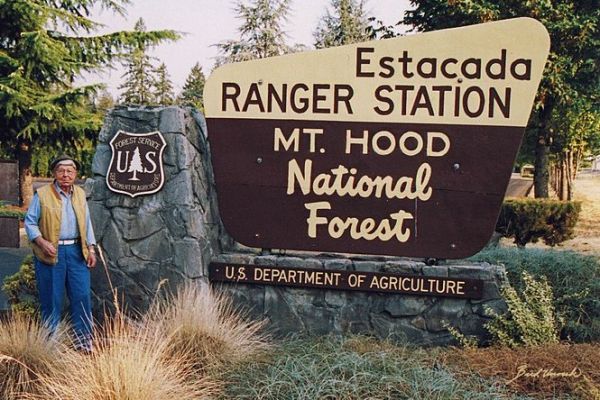 Wherever you go in the United States, you'll recognize the official signs of the National Forest Service. The slightly rounded trapezoid shapes, the sturdy base, and the unobtrusive colors are consistent across the country. It wasn't always that way. At one time, Forest Service signs varied from place to place, and many sites didn't have signs at all. The iconic signs debuted 1963, the work of Virgil "Bus" Carrell, a lifelong forest ranger who had no graphic design experience, but really cared about the Forest Service. Carrell teamed up with artist Rudy Wendelin, who designed Smokey Bear.  
Carrell, Wendelin, and two landscape architects began their work with a tour of Forest Service-managed areas. They found some entrances marked with the agency's official shield, others with hand-drawn placards or metallic eyesores. Some signs merely had the property's name. Others featured entire histories. What they didn't see anywhere was consistency.

Based on his observations, Carrell developed a philosophy summed up in his essay "Signs to Complement Natural Beauty." It reads like Sun Tzu's The Art of War for forest signs: "A sign does not have to be the gaudiest, the biggest, and the most colorful to be the best one," and "The text should develop no more than one topic and have a warm tone."
Read about Carrell and his dedication to the Forest Service, and the signs that are his legacy, at Atlas Obscura.
(Image credit: U.S. Forest Service- Pacific Northwest Region)
Source: neatorama