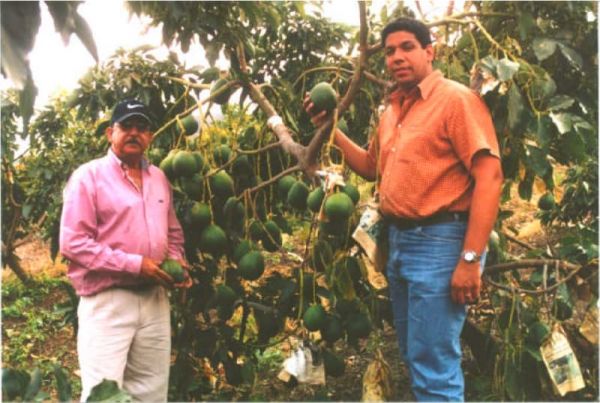 The avocados available at your local supermarket are almost all Hass avocados, grown in Mexico year-round. But there are many kinds of avocado, and one enormous variety from the Dominican Republic called the Carla has spawned a lawsuit by the company Aiosa, who owns the first Carla tree and patented the fruit, against the distributor Fresh Directions International for selling Carla clones. What's so special about the Carla avocado?
"If you can keep yourself in the market longer and you have a late variety, then you maintain your position in the market, and you can sell fruit," said Jonathan Crane, a tropical fruit specialist at the University of Florida. "So Carla is a late variety that the Dominican Republic avocado industry purposely is growing to enter that late, late market."

That's not the Carla's only asset: Its flesh also manages to stay fresh for up to eight hours after being cut open, so eaters can save it for later.

And yes, it's enormous. In 2016, when it went on sale at British retailer Marks & Spencer, the Daily Mail marveled at its girth ("the giant 'Carla' avocado that is FIVE times bigger and weighs 1kg") and the Metro declared it "terrifying": "It looks like a mango. It is not a mango."
The upshot is that there's a lot of potential money riding on the right to sell the Carla. Genetic tests show that the Carlas sold by Fresh Directions is identical to the ones sold by Aiosa, the patent holder. However the lawsuit turns out, the story brings up a lot of questions. Since the Carla was discovered among Aiosa's West Indian avocado trees, instead of being developed by breeding, should it really be patented? Should living things ever be patented? What if Fresh Directions already had a Carla tree by, say, a gift of Carla branches from Aiosa's founder to his brother? Read about the avocado war at Buzzfeed.
(Image credit: Aiosa)
Source: neatorama