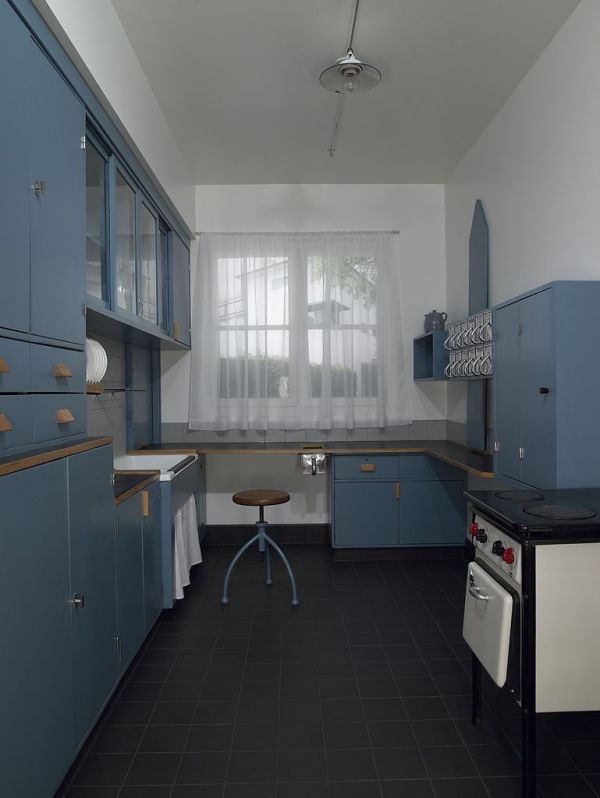 We think of a kitchen as a standard part of a home, but like the bathroom, it wasn't always so for most working class families. Without plumbing, there were no sinks, and many homes had one stove or fireplace that was used for both heating and cooking. The concept of a room dedicated to food preparation really took off after World War I, when plumbing became more common, communities were wired for electricity, and factories produced amazing modern appliances to furnish the kitchen. That was all fine and good, but what about small city apartments that had to be retrofitted? Or even new apartments that were expected to have kitchens in a very limited space? Enter architect Margarete Schütte-Lihotzky, who was charged with designing liveable yet affordable apartments for German cities rebuilding after the Great War.  Her 1926 "Frankfurt Kitchen" became the model for efficient housing across the globe.  
Schütte-Lihotzky conceived of the Frankfurt Kitchen as a separate room in each apartment, which was a design choice that had previously applied only to the cavernous kitchens that served great houses. She used a sliding door to separate it from the main living space. She read Frederick and Taylor's works translated into German, and even conducted her own time and motion studies.

And presaging the work of American designers Norman Bel Geddes and Raymond Loewy, who drew inspiration from trains and cars in designing their streamlined kitchen appliances in the 1930s, Schütte-Lihotzky found a model of culinary efficiency in the kitchens of railway dining cars designed by the Mitropa catering company. Though tiny, the cars served scores of diners using an extremely small galley space—a term we still used to describe apartment kitchens today.
But we don't use the term Frankfurt Kitchen, and few people know of Margarete Schütte-Lihotzky. The reason can be summed up as the Nazis. Read about Schütte-Lihotzky and the evolution of modern kitchen design at City Lab. -via Digg
Source: neatorama