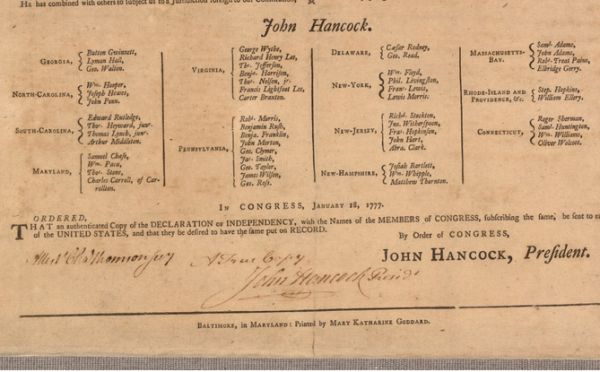 In the Library of Congress, there's a 241-year-old document that we celebrate every Fourth of July. Look closer, and you'll see a woman's name at the bottom. Mary Katherine Goddard was not a signer of the Declaration of Independence, but she was the brave printer who made copies for the colonies, and put her full name on the document. That could have gotten her killed if the Revolutionary War had ended differently.
Goddard was fearless her entire career as one of America's first female publishers, printing scoops from Revolutionary War battles from Concord to Bunker Hill and continuing to publish after her offices were twice raided and her life was repeatedly threatened by haters.

Yup, she faced down the Twitter trolls of 1776.

In her boldest move, Goddard put her full name at the bottom of all the copies of the Declaration that her printing presses churned out and distributed to the colonies. It was the first copy young America would see that included the original signers' names — and Congress commissioned her for the important job.
Goddard led a fascinating life in a time when few people considered women capable of running a business. She was a journalist, publisher, printer, postmaster, and patriot. Read more about Mary Katherine Goddard at the Washington Post. -via Metafilter
Source: neatorama