Not all dispensaries are created equal, which is noticed at first glance of The Woods WeHo. The high-end dispensary located off of Santa Monica Boulevard in West Hollywood has what they've described as a "eco-zen" vibe. Tasked by The Woods' co-founders actor + activist Woody Harrelson, comedian Bill Maher, and ERBA Markets co-founders Devon Wheeler and Jay Handal with designing the new shop, Creative Director Thomas Schoos of Schoos Design created a sustainable oasis you could get lost in. The chill, laid back aesthetic has a woodsy, organic feel, which makes sense given the name.
An oval-shaped counter made of recycled wood from a Montana barn makes the biggest statement in the space, along with loads of greenery of the basic plant variety. Arched bookshelves hold court with the various types of cannabis offerings on display.
Feng shui dragons from Thailand hang from the ceiling while holding energy efficient LED bulbs at varying heights.
Embedded porthole windows made of clay act as open shelves with views to the upcoming bar concept soon to open on the other side.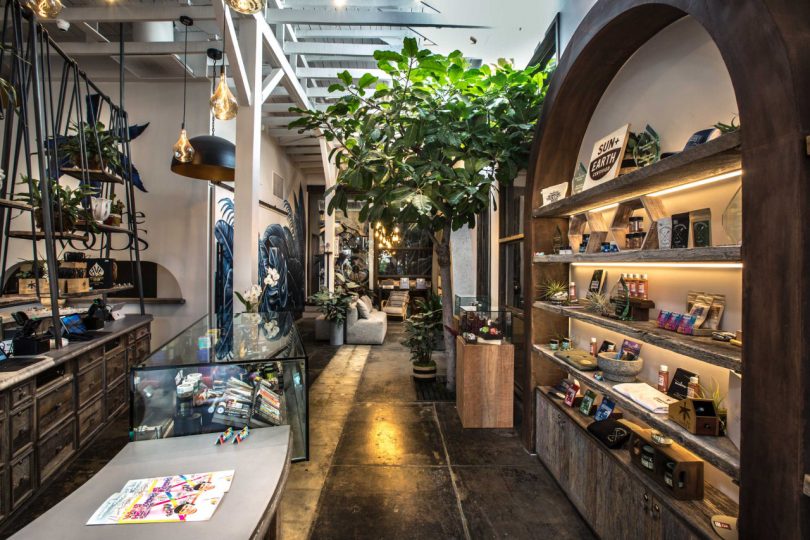 Skylights keep the interior well lit and the ficus and fiddle-leaf fig trees happy and growing.
Custom shelving holds curated offerings within marble and wooden cubes with porthole windows that let customers view the goods.
Visit The Woods dispensary at 8271 Santa Monica Blvd. in West Hollywood, California. More info here.
Photos by Diana Dalsasso.
Source: design-milk