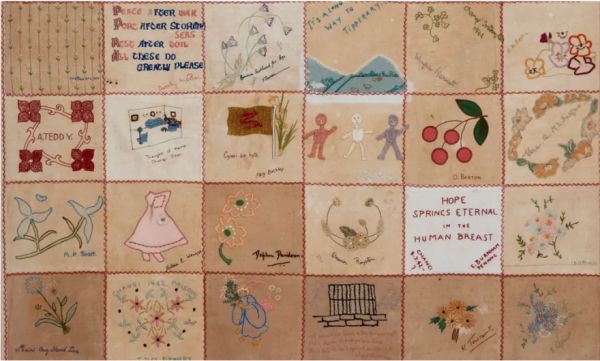 When the Japanese captured Singapore during World War II, quite a few women and children from Britain and its allies were sent to POW camps. Their husbands and fathers were sent to separate camps, and no communication was allowed between them. However, the women came up with a scheme to let their men know they were alive. They volunteered to make quilts for the Red Cross to use in the camp's hospital, where there were plenty of wounded men. They embroidered quilt pieces with designs that sent clandestine messages to their loved ones, and most importantly, they each embroidered their names on the squares. The names were enough to announce that they were still alive, and the designs were something that would mean nothing at all to a casual observer, but would to a husband, whether he saw it himself or even just heard about it from a hospitalized inmate.
For example, one embroiderer whose husband was imprisoned in the camp depicted a V, presumably for victory, and two smiling rabbits. "She had two daughters, so we think that the message was intended to let her husband know that her two daughters were well and with her."

Other squares contain chirpy, patriotic emblems like Scottish thistles and Welsh dragons, and subtle references to King George VI. But most importantly, "every square has a name or initial: that was the main objective, just to get their name on the quilt".
Three quilts are known to have survived Changi prison. Two are on permanent display in Australia, and the third, only recently discovered, is going on display as the British Red Cross opens a new museum in London this week. Read more about the quilts at The Guardian. -via Nag on the Lake
(Image credit: British Red Cross Museum & Archives)
Source: neatorama