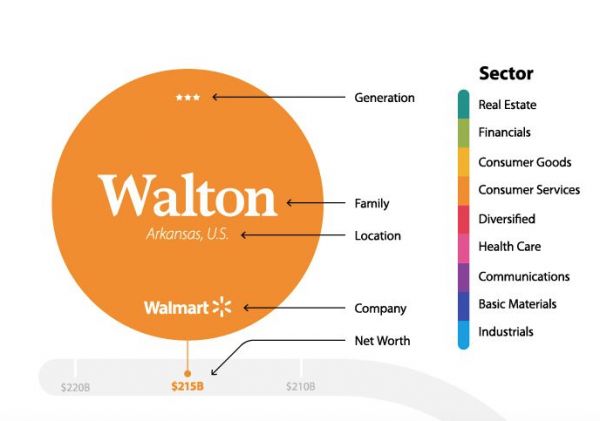 Intergenerational wealth is the best kind of wealth to have, as you only have to be lucky enough to be born into it, while building great wealth from lesser wealth requires luck plus talent, ambition, and effort. Still, there is no shortage of wealthy heirs who are convinced they deserve everything they have. Visual Capitalist compiled a list of the 25 currently wealthiest families in the world, shown in both graphic and chart form.    
The COVID-19 pandemic hasn't stopped the world's wealthiest families from growing their fortunes. Over the past year, the richest family—the Waltons—grew their wealth by $25 billion, or almost $3 million per hour.

This graphic, using data from Bloomberg, ranks the 25 most wealthy families in the world. The data excludes first-generation wealth and wealth controlled by a single heir, which is why you don't see Jeff Bezos or Bill Gates on the list. Families whose source of wealth is too diffused or opaque to be valued are also excluded.
What's left is a glimpse into more money than you and I could ever imagine having. For example, while the Koch family lost billions in the oil crash this year, they still came in at #3 and will never worry about making rent. See the list, graphic, and more information here. -via Digg
Source: neatorama