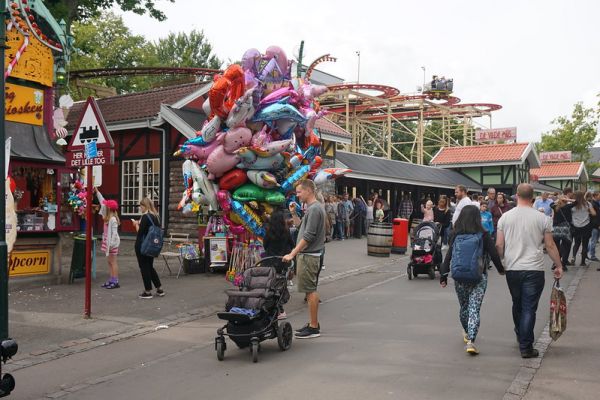 The problem with crowning anything as "the world's oldest" is that first you have to settle on a definition of the thing you're talking about, and there will always be disagreement about those definitions. What, exactly, is the difference between a "park" and an "amusement park"? And when does a space cross over from one to the other?
Dyrehavsbakken, an amusement park north of Copenhagen in Denmark, is called the world's oldest amusement park. The history of the park began when a natural spring was discovered in 1583, more than 400 years ago. People began to congregate around the spring, which offered better quality water than Copenhagen. Crowds meant an opportunity for vendors, and those vendors knew they would sell more if there was entertainment available, so that was arranged. The history of the park was boosted when the king established an animal park, but it was later made private for royalty, and then opened to the public again. Any of these events could interrupt a historical timeline that enshrined Dyrehavsbakken as the world's oldest amusement park. But no one is going to argue about the title, unless they have a better case for another park.
As it is, the history of Dyrehavsbakken is quite interesting, and shows how some businesses just naturally evolve over time instead of springing up from whole cloth. You can read the story of Dyrehavsbakken at Amusing Planet.
(Image credit: Flickr user Insights Unspoken)
Source: neatorama