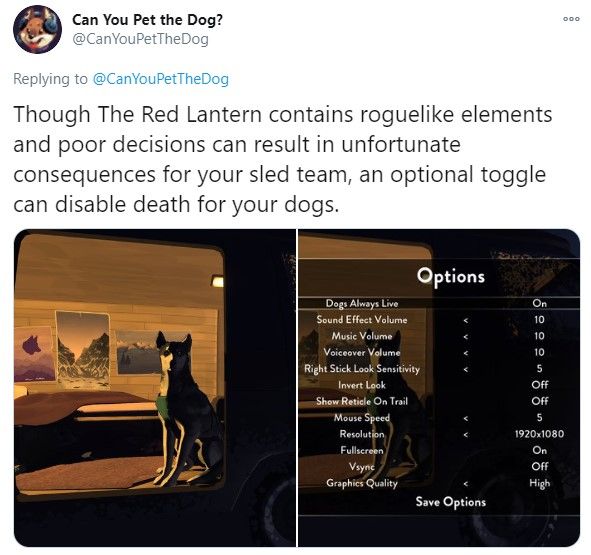 Pet the dogs. Start a fire. Observe or hunt down some animals. Go fishing. Tend to your wounds. Distribute the food you have accordingly to yourself and your dogs, to ensure that no one will starve. These are some of the things that you have to do in order to survive in the Alaskan wilderness.
The Red Lantern is a survival game developed by Timberline Studios and was recently released in the Nintendo Switch. As a survival game, your goal is to survive in the wilderness, and prevent your dogs from dying.
When people saw the announcement trailer last year, some were turned off because of the scene where one of your sled dogs presumably died from a bear attack.
But there are some options to keep your dogs alive in the game, and one of them is by turning off dog deaths in the settings.
"Though The Red Lantern contains roguelike elements and poor decisions can result in unfortunate consequences for your sled team, an optional toggle can disable death for your dogs," Can You Pet the Dog? tweeted.
People in the tweet comments are pretty excited to see an option like this, which makes the stakes pretty clear. Things might not go right, but it won't send you over the edge if seeing dogs die is something that upsets you. Plenty of folks reacted with relief, noting that they weren't originally going to play the game because of it — but now they might be able to give it a go.
Yay!
(Image Credit: Can You Pet The Dog?/ Twitter)
Source: neatorama