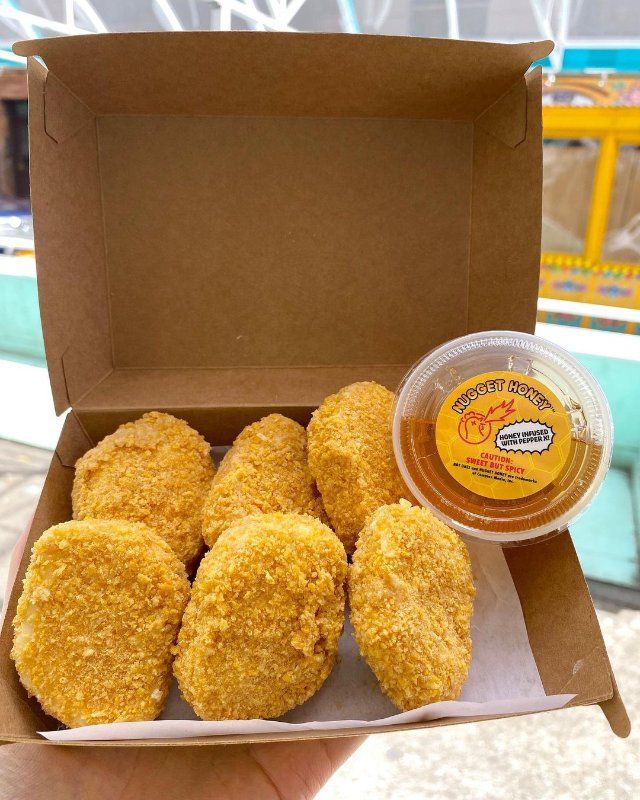 🍦 They look like chicken nuggets, but they're actually ice cream covered in cereal crumbs by Milk & Cream Bar in New York. The snack comes in cardboard containers you'd usually get with actual chicky nuggies, and even comes with a container of honey dipping sauce. Yum!
🚁 It's 2021, where's my flying car? Well, that may still be ways off, but how about a flying electric multicopter? Swedish startup Jetson unveiled its eVTOL (electric vertical take off and landing vehicle) called Jetson One that looks like a podracer straight out of Star Wars.
😻 When Liam Thompson noticed that his 20-year-old cat named Frodo had trouble walking up and down a set of stairs, he decided to to help by building a cat elevator.
🕹️ Thumby: a teeny tiny game system the size of your thumb.
🏰 A man's home is his castle, but this house in Michigan is actually shaped just like one. And now it's for sale for $2.3 million. Look inside.
🧶 If you ended up buying that castle above, then this would be the perfect bed for your pet cat: crocheted cat castle pet bed.
🌳 Mill Ends Park, the world's smallest park, is moving … 6 inches to the left.
🖖 Star Trek replicators, how do they work?
🎲 Lastly, a cafe like no other: a retired elementary school teacher in Virginia opens Unplugged Cafe and stocks it with 700 board games to encourage family to play together.
Today's link round up brought to you by our new network of sites: Pictojam, Infinite 1UP, Supa Fluffy, Homes & Hues, Pop Culturista and Laughosaurus. Go check 'em out!
Image: Milk & Cream Cereal Bar
Source: neatorama