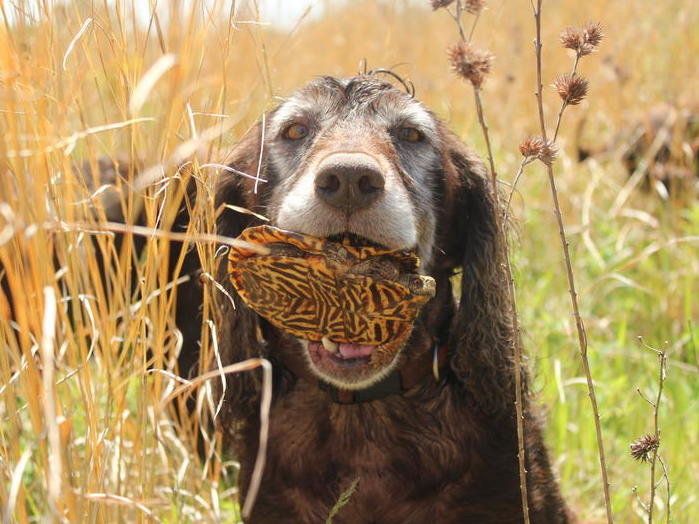 We humans always want to make our lives easier and more comfortable. Every day, new studies are conducted, and new things are invented. Technology and our thirst for knowledge have brought us up to this day, albeit at an expensive price: Mother Nature. Moment by moment, the Earth's resources get depleted, and it gets depleted fast. The Earth's atmosphere is getting warmer due to climate change, and more and more animal species become extinct by the hour.
One of the animals deeply affected by climate change is the turtle. Their appearance might not show it, but turtles are ecological movers and they do lots of things for ecosystems that they belong to. Fortunately, there are people concerned enough to go to their rescue. John Rucker is one of these people: he finds turtles and preserves turtles with his trained dogs. (Counting the number of turtles is important; this helps the conservationists manage the land better.)
It's a cool spring morning on a 40-acre nature preserve owned by Bur Oak Land Trust in eastern Iowa. John Rucker is scouring a shady hillside with his four Boykin spaniels, looking for turtles.
"Find turtle, find turtle," Rucker calls to his dogs. Turning to a reporter, he says: "Did I tell you I'm the only person in the world that does this?"
In fact, there are a number of conservationists and their canine companions doing similar work (though Rucker may be one of the few who live out of tents and vans while working).
When he's not living off the grid in rural Montana, Rucker travels the country with his specially trained hunting dogs, helping scientists and conservationists find turtles.
The dogs working with Rucker are Rooster, Jenny Wren, Jaybird and Mink.
Rucker and his "super dogs," as he calls them, make their way through the undergrowth, checking in brush piles and under old logs. When the dogs find a turtle, they'll gently pick it up with their mouth and bring it back to Rucker.
"You will notice that as soon as they strike a scent trail their tails will start wagging furiously, and then their whole demeanor becomes extremely excitable," Rucker explains.
…
"It's sort of like a religion for me," Felder says. "Nature is important and somebody has to defend it, protect it, preserve it."
(Image Credit: Kate Payne/ IPR)
Source: neatorama