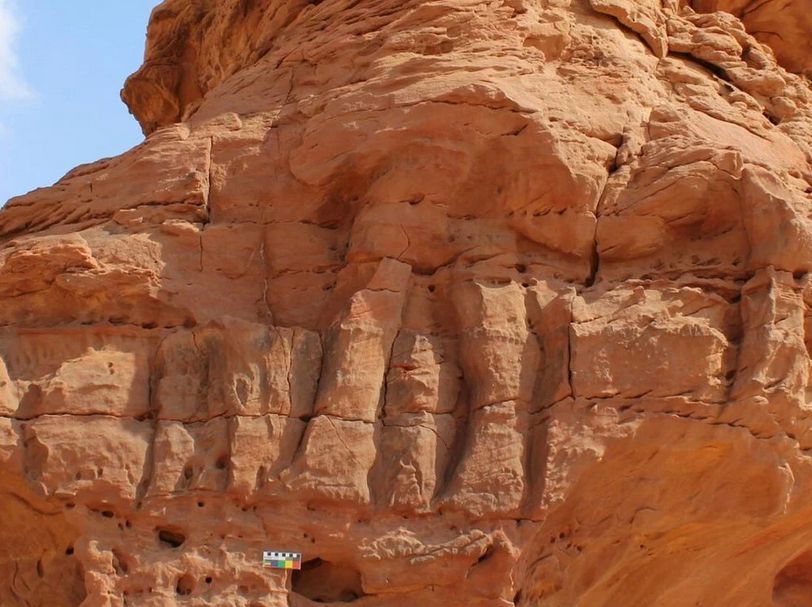 A new study proposes that the life-size camel sculptures in northern Saudi Arabia date back around 6,000 years. Initially discovered in 2018, experts estimated that they were about 2,000 years old. The current study suggests that these artworks should most likely be dated between 7,000 and 8,000 years ago, which would make them older than the Pyramids of Giza (4,500 years old) and the Stonehenge (5,000 years old):
Researchers dated the carvings through a chemical analysis and an examination of tool marks found at the site, reports Daniel Bardsley for the National.
"They are absolutely stunning and, bearing in mind we see them now in a heavily eroded state with many panels fallen, the original site must've been absolutely mind blowing," lead author Maria Guagnin, an archaeologist at the Max Planck Institute for the Science of Human History, tells the National. "There were life-sized camels and equids two or three layers on top of each other."
Ancient artists carved the images into three rocky spurs, notes Ewelina Lepionko for Albawaba. In addition to about a dozen camels, the artwork depicts two animals that may be donkeys, mules or horses.
The original estimate of the artworks' age was based partly on the existence of other camel reliefs made in Jordan around that time. But radiocarbon dating, analysis of weathering patterns and other dating methods suggested a much older origin. Additionally, a stone mason found no signs of pottery or the use of metal tools at the site.
Image credit: M. Guagnin & G. Charloux
Source: neatorama