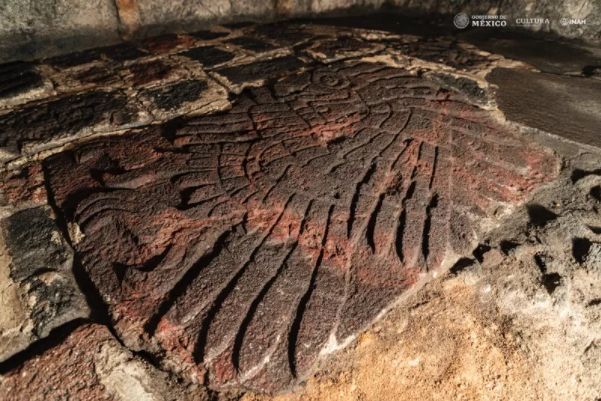 An Aztec sculpture depicting a golden eagle has been discovered in Mexico. The 600-year-old sculpture, which measures 41.7 inches by 27.6 inches (106 by 70 centimeters), was carved into the floor of a structure at the foot of Templo Mayor, the temple that was built at the heart of Tenochtitlán, as Live Science detailed:
Artists created the bas-relief — a type of sculpture with raised images carved out of a stone background — in the mid-15th century during the reign of Moctezuma I.
Archaeologists from INAH discovered the carving in February 2020 as a part of the ninth season of the Templo Mayor Project, an ongoing excavation of the sacred site.
"It is a very beautiful piece that shows the great secrets that the Templo Mayor of Mexico Tenochtitlán has yet to reveal to us," Alejandra Frausto Guerrero, Mexico's secretary of culture, said in a statement. "Thanks to their [the archaeologists'] effort and dedication, we can continue to recover our history and our memory."
Image via Live Science
Source: neatorama