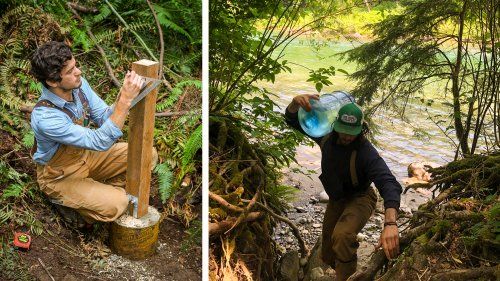 Would you quit a well-paying job, in the middle of a pandemic, in order to find something that would make you feel more fulfilled? Some feel free to do so just to have more meaning to their life than working at a desk for hours. Bryan Schatz and Patrick Hutchison did exactly that. They were two people with arguably good careers, but felt caged and overwhelmed by the same, tiring routine brought by their jobs, so they tried out something different, as Outside detailed:
We laid out our plan, which was: we didn't really have a plan. We'd build a cabin for sure, but whether we'd keep it or rent it or sell it wasn't clear. We hadn't actually priced anything out, but we figured we could get it done for about $20,000, maybe less. We'd pool our money saved from working and go in on it together, splitting up the investment equally. Dan couldn't quit his job—he was building a career in the maritime industry in Seattle, getting hours toward his captain's license—but he'd help out on weekends when he could.
Three weeks later, we found a quarter-acre of raw land near Pat's tiny off-grid in the Cascades. It was a sloping meadow of ferns a short walk from the Skykomish River, festooned with mature Douglas fir, big leaf maple, and cedar. We put down an impossibly low offer of $3,000, certain the sellers wouldn't take it seriously. If they accepted, we'd consider it a sign from the universe.
They accepted almost immediately. It was early spring.
Check out the full piece here.
image via Outside
Source: neatorama