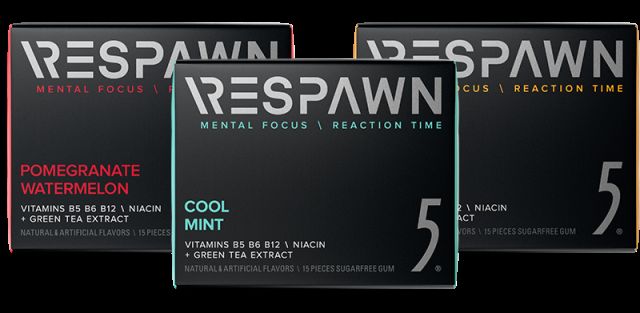 The ability to concentrate and react quickly to the things in the game is what makes a gamer competitive. That's why Razer designed a drink last year that will keep a gamer's focus sharp for hours. This year, the company released yet another product for gamers: a fortified gum called Respawn By 5.
Razer has partnered with Wrigley's 5 gum… to make a gum specifically for gamers. The product is infused with B vitamins and green tea extract to help improve your focus and reaction time, according to a statement from Razer. Choose from a classic cool mint flavor, or two flavors already time-tested in the Respawn drink: pomegranate watermelon and tropical punch.
If the Respawn drink seemed a little out of left field, this gum is a bit of a surprise as well. However, Respawn By 5 could be an alternative for those who don't want the caffeine in the Respawn drink but still want a "mental performance supplement." If you think a stick of gum could be the difference between beating the next boss in your video game or becoming an esports master, you can snag 10 packs for $27.99 at the Razer website.
While this gum is intended for gamers, it could be used by other people as well, like those who work in the office.
Well, what do you think?
(Image Credit: Razer/ Engadget)
Source: neatorama