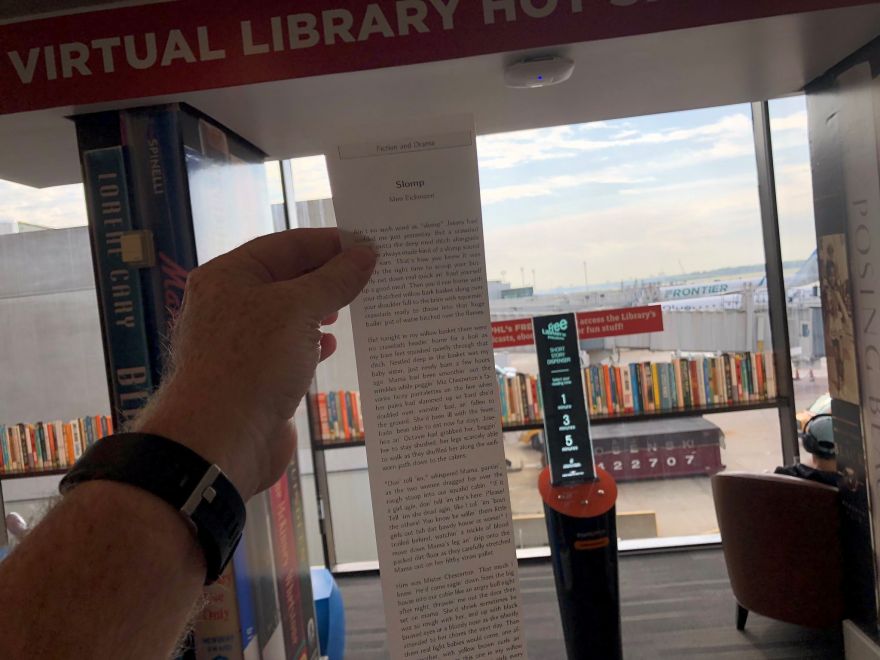 In the photo above, Twitter user Mike Glenn holds a 5-minute short story issued to him by the Free Library of Philadelphia's kiosk at the Philadelphia International Airport. That's how long a 5-minute story looks. There are options for other lengths of time, so you can customize your reading to your individual time-killing needs.
You can find this unique vending machine in the quiet room at the airport. The Philly Voice reported on its installation last year:
The dispensers are the creation of Short Édition, a French community publisher that accepts user-generated stories and places them in reading length categories of one, three and five minutes. A five-foot tall, screenless kiosk invites travelers to select a reading length and then prints out the story on eco-friendly paper.
Siobhan Reardon, the director of the Free Library of Philadelphia (a public library system), described the impact she hoped this outreach program will have:
"Our goals are to create excitement about reading in unexpected places throughout the city and to increase public awareness of the Free Library's programs and services," said Reardon. "Having a kiosk at Philadelphia International Airport in the Library space there continues our outreach to people who may not be Free Library regulars, but who would enjoy a quick, accessible read."
-via Kurt Schlichter
Source: neatorama