Of all the questionable trends born on TikTok (need I remind you of the balsamic vinegar and seltzer water "Coke" or the infamous milk crate challenge?), a rare few have actually brought demonstrative value to my life – until the at-home coffee station, that is. Motivated by the prospect of saving money on latté runs or the thrill of a new home project for the sake of #content, TikTok users everywhere are creating their own design-driven coffee bars at home. There aren't any hard and fast rules, a coffee station can be its own cart or shelving unit stationed in your kitchen or living room (think bar cart but cozy) or a sectioned off piece of your countertop, but the main goal is to have everything you need to make a coffee shop quality coffee (we're talking everything from the beans, brewer, and sugar to flavored syrups, mugs, and straws) stylishly arranged in one central location. If like me, you too want to be your own barista, read on for all of modern finds you'd need to build your own coffee bar at home. Check out the Design Milk Shop for more.
Modern Cups + Mugs
New in from Philly-based ceramics studio Cloud 9 Clay, Mug 127 has a bright, chartreuse green glaze (hand painted by founder Peyton Flynn) that demands to be seen by all – making it a perfect addition to your home coffee station. With its modern curved handle and delicately tapered form, the stoneware mug feels good in your hands, and looks good too! And the fact that it's dishwasher and microwave safe is a major plus.
$60
Shop Now >>
KINTO's Sepia Cups will give your home coffee station a warm, retro aesthetic thanks to their iconic sepia tint. The cup's chic square handle evokes the feeling of vintage glassware, while offering a secure grip while drinking. While the heat resistant glass makes it a go-to option for both hot and cold coffees, and tea (if you're into that sort of thing). For the full coffee shop experience, I'd recommend pairing multiple cups with KINTO's non-slip wooden tray.
$19
Shop Now >>
If you're an iced coffee addict like myself, you know just how integral glassware is to the whole experience. Departo glasses make for an aesthetically pleasing iced coffee at home thanks to their subtly curved design, pillared bases, and the different tints available. Their Low Glass is the perfect size for stacking at your coffee station, and the gray tint of the Smoke color brings an edgy, modernist look to your coffee bar setup. When you're not using it for iced coffees, the Low Glass is a perfect pick for wine, juice, water, and anything else you've got in your fridge.
$12 each
Shop Now >>
To give your home coffee station a shot of earthy color and texture, look to this sculptural mug by Les Pied De Biche's sister company, Studio Pretext. Handmade in the brand's Brussels studio, the MB.II mug skips the glaze entirely, showcasing the natural beauty and versatility of ceramic material through the artful marbling of red and white sandstone. Between the mug's tactile appeal and unique, geometric accents, the MB.II Mug is a coffee station must and sculptural accent in one.
$55
Shop Now >>
The Right Brewing Tools
You can't have a coffee station without the right tools. And KINTO's Stainless Steel Kettle is a coffee-making essential no matter your preferred brewing method. The Japan made kettle is designed with a long, curved spout that allows for optimal pouring control, and a sturdy extended handle for easy grip. I'm personally obsessed with the smooth, matte finish on the white version, and the crisp modern look it'll bring to a coffee bar!
$150
Shop Now >>
For those who can't resist a touch of metallics, check out Eva Solo's Cafetière. The minimalist coffee press stars a sleek, stainless-steel body accented by a natural oak handle for a modern combination of textures that'll complement any coffee station. The pouring spout delivers a drip-free pour every time, while the cafetière's steel material keeps hot coffee hot – making it a brewer and vacuum jug in one.
$196
Shop Now >>
A modern and playful upgrade to the classic french press design, HAY's French Press Brewer adds a pop of color to your at-home coffee station. This stylish Scandinavian coffee brewer is made of durable clear borosilicate glass and accented with a contrasting yellow lid and bright cobalt blue knob, giving it an elevated yet whimsical look that'll spruce up your morning coffee ritual.
$69
Shop Now >>
Departo's Ceramic Pitcher boasts a simple, thoughtfully designed form that's perfect for pouring frothed milk or cream into your morning coffee. The vessel's wide base and narrowed spout accommodates more than latté usage too – use it to store small accessories like tea bags, straws, and stirrers, to store fresh herbs in your kitchen, or even to water plants! Talk about a multi-hyphenate.
$22
Shop Now >>
Smart Storage
Open Spaces Shelf Risers are always a game changing storage solution, but especially on a coffee station. Use them to elevate coffee brewers and tools, and store smaller items like mugs, cups, and sugar vessels underneath to achieve the clutter free coffee bar of your dreams. Plus, their whitewashed wooden surface and cream legs brighten up the look of your countertop.
$72
Shop Now >>
These colorful jars by TIIPOI are perfect for storing your favorite coffee grounds or loose-leaf teas. On top of delivering a textural contrast against the jar's sleek aluminum body, the airtight wooden lids help preserve all of the nuanced flavors and freshness of your coffee grounds, so you get a delicious cup every time. Even better, the bright yellow color immediately energizes the look of your coffee bar, preparing you for the caffeine hit you crave in the mornings!
$76
Shop Now >>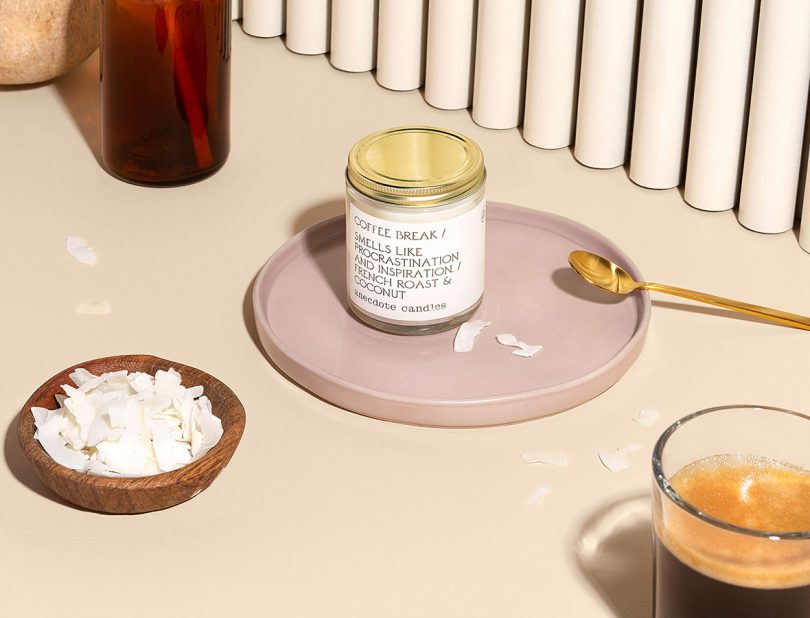 To complete the whole coffee shop experience, bask in the aroma of roasting coffee beans with Anecdote's Coffee Break Candle. Let the scents of rich french roast, coconut, and shea mingle with hints of sweet vanilla, sugar cane, and candied praline – cultivating a complex yet comforting aroma that'll rival the scent of your neighborhood coffeeshop.
$26
Shop Now >>
The Coffee
To experience the thrills of tasting new coffees without leaving the house, look to Driftaway's coffee subscriptions. They work with sustainable coffee farmers around the world to send you curated coffee varieties every month, learning more about your preferences along the way so you get a truly personalized experience – and a delicious cup of coffee.
$ price varies
Shop Now >>
I'll admit, the packaging is what sold me on Chamberlain Coffee initially. The image of these bright and colorful single serve coffee packets (which are all compostable, by the way) lining my coffee station was too romantic to ignore. Fortunately, though, this is a love story with a happy ending. The coffees are all incredibly tasty, and I love the fact that I can switch it up cup by cup without having to open a whole new pouch of coffee beans. The Social Dog and Fancy Mouse blends are personal favorites!
$90 for the complete single serve collection
Shop Now >>
Shopping any of our coffee station must-haves? Share your haul and tag us @designmilk to be reposted to our Instagram! 
This post contains affiliate links, so if you make a purchase from an affiliate link, we earn a commission. Thanks for supporting Design Milk!
Source: design-milk