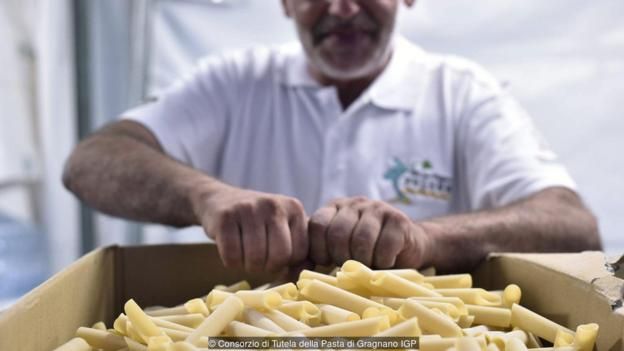 Encased by mountains and the sea, Granano, Italy is the 'Città della Pasta' (City of Pasta) – famed for its white gold or macaroni. This sleepy coastal town once was one of the richest in terms of pasta production. Nunzia Riccio, food technologist and quality control manager at Pastificio Di Martino explained the town's past to the BBC:
"In the past, almost every family in Gragnano produced pasta," Riccio said. "This has been an ancient tradition for over 250 years, with 'white gold' serving as the economy of the city."
Professor and historian Giuseppe Di Massa added more details on the town's old pasta-making traditions (away from the factories and technological improvements):
"The municipality allowed pasta factories to occupy the space out front with the spasa (pasta on the reeds), and, playing their part, pasta factories guaranteed the street's cleanliness, since they didn't want their pasta to be contaminated by dust," Di Massa explained. "The way Gragnano pasta was dried was a real art, improved over centuries and passed down as a family secret generation after generation. Since no preservatives or antibacterials existed at that time, the conservation [of pasta] depended upon slow drying."
The beautiful and detailed past traditions of the town managed to remain, in the townspeople's heart and history- if Gragnano is mentioned, pasta is the next word that comes to mind.
image credit: Consorzio di Tutela della Pasta di Gragnano IGP via BBC
Source: neatorama