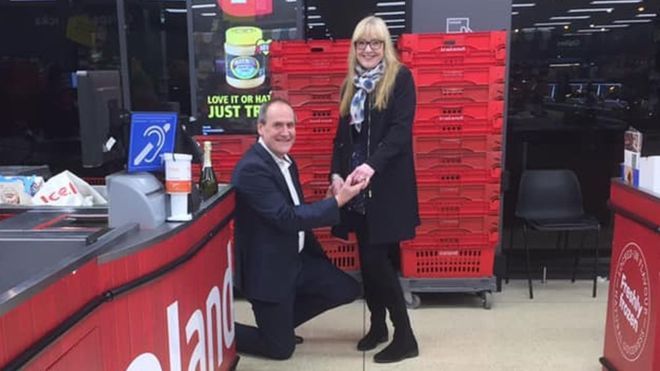 When their planned trip to Iceland was cancelled due to the pandemic, Robert Ormsby decided to continue with his plans of proposing to his girlfriend. The nurse proposed in an Iceland store (a store with the same name as the country) instead. His action surprised his girlfriend, Patsy Murdoch. Murdoch said "yes", but she was embarrassed at first, as BBC detailed:
A photo of the proposal has gone viral and the couple said they were happy to spread some joy at this tough time.
"It's nice to know you can cheer somebody up by doing something that was just a humorous thing to make up for what we were going to miss," said Mr Ormsby, a charge nurse at Maidstone and Tunbridge Wells NHS Trust.
The couple, both 58, was on their way to dinner when he nipped into Iceland under the pretence of picking something up.
"I was actually looking for an empty aisle," he said.
As he dropped on one knee, his partner "looked embarrassed at first," but quickly said "yes" and he "popped the ring on her finger," he said.
image via BBC
Source: neatorama