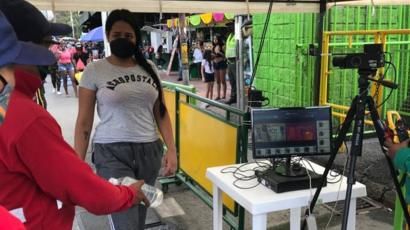 Plaza Minorista is a market that sits in the heart of Medellín, Colombia. Fifteen thousand people flock to the market where three thousand vendors sell their goods. Since a crowded area like Minorista is a possible hotspot where the virus can spread, director Edison Palacio decided to use artificial intelligence to aid in their fight against the pandemic:
Mr Palacio explains how they use facial recognition software connected to cameras at the entrances and to security cameras around the building to collect data on the vendors and market-dwellers. Among the data they collect is their age range, gender, and if the person is wearing their mask correctly in order to assess risks and more vulnerable demographics.
Thermal cameras can take the temperature of 200 people per minute, he says. If someone has a high temperature or wears their mask incorrectly, an alarm will go off and alert market security.
image via BBC
Source: neatorama