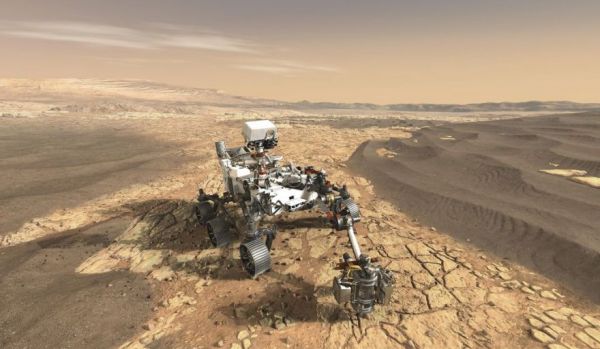 If one wants to go to Mars, there is a launch window that comes around every two years or so when the planets align in a manner that makes the trip to the red planet a lot easier. NASA takes advantage of that launch window every time it comes around, as in this moth. China and the United Arab Emirates are scheduled to also send missions to Mars in July. The planned European-Russian Exomars mission was scrapped, but three missions are still a go as of now. NASA is out in front with an audacious plan to send a lander to Mars and then bring it back with samples of the planet!
In 2011, when U.S. planetary scientists were asked what big-ticket projects should receive federal funding over the next decade, a Mars sample-return mission came out as their top choice. Actually, they needed two missions. The first would collect rocks and soil and cache them on Mars, and the second would retrieve the samples at some later date and return them to Earth where they could be studied in far more detail than they could be on Mars. NASA's Perseverance rover constitutes Part One of that plan. Now scheduled for a July 17 launch from Cape Canaveral [Update: Launch is now planned for no earlier than July 30], it's the most advanced Mars mission yet.

Having established from past investigations that Mars was once a habitable place, scientists now want to know if the planet was, in fact, ever inhabited. That's a more difficult question, as there currently are no definitive "biosignatures" for identifying life, short of spotting a kangaroo bounding across the Martian surface. More likely, a tentative answer will come from multiple lines of evidence showing that a particular rock's chemistry and physical characteristics probably resulted from biology. Perseverance's job is to find the rocks that look most promising for containing that fossil evidence.
Read about all three Mars missions launching this summer at Air&Space magazine. 
(Image credit: NASA/JPL-Caltech)
Source: neatorama