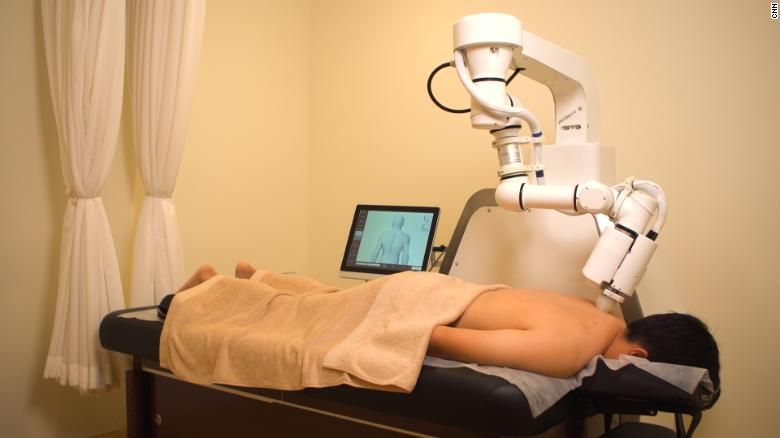 I know what you're thinking: it's one more job that robots are taking away from humans. But consider that this robot's job requires access to humans. So when the robopocalypse happens, it will be necessary to keep at least a few of us around to provide employment for the EMMA. This robot, developed by the Singaporean startup company AiTreat, can customize a massage to reflect the needs of each client. CNN reports:
Using sensors and 3D vision to measure muscle stiffness, EMMA (which stands for "Expert Manipulative Massage Automation") identifies pressure points and delivers massages to patients to help offer pain relief and relaxation.
AiTreat CEO Albert Zhang describes a future dominated by these robots:
With soft-touch treatment modules warmed to a temperature of 38 to 40 degrees Celsius (100 to 104 degrees Fahrenheit), patients lying on the table might not even notice the difference between EMMA and a real-life masseuse — but Zhang doesn't want robots to replace masseuses. Instead, he says that they can help by taking away the back-breaking work massage therapists do every day, and enable them to "focus on the 10% highly skilled part," which can increase their productivity and income while reducing the cost for patients.
-via Dornob | Photo: AiTreat
Source: neatorama