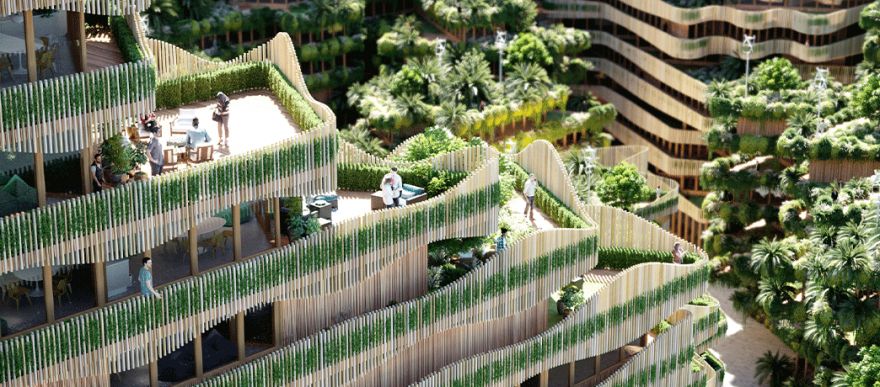 Mitosis (not the biological process) is a sustainable architectural concept that focuses on regenerative sustainable living and urban development. The structure, a collaboration between Amsterdam-based architecture firm GG-loop and Arup, has the ability to expand itself to accommodate more people. YankoDesign has more details:
Just like flexible organism evolves to adapt to different settings, Mitosis will also be able to do that with its individual, rhomboid-shaped modules that are stacked together to create shared outdoor spaces and private terraces. The outdoor areas would be filled with enough plants to make a lush green cover which will allow the residents to reconnect with nature while offsetting the urban heat island effect – pretty 'cool', eh? These plants will also elevate the air quality levels, especially in cities while encouraging sustainable living practices of urban farming and community gardens. The terraced build provides ample natural light to both plants and apartments. The greenery will also help the existing wildlife of the area to continue having their space and coexist with the residents.
"Mitosis adopts the 14 principles of biophilic design and articulates the relationships between nature, human biology, and the design of the built environment. Its construction is organic and flexible, providing large areas of urban and vertical farming, greenhouses, wildlife corridors, and integration of habitat creation, that encourage shared outdoor activities among residents," said the team in their project statement. The unique concept aims to give its residents an outdoor space along with the amenities needed to participate in environmentally friendly communal activities.
Image via YankoDesign
Source: neatorama