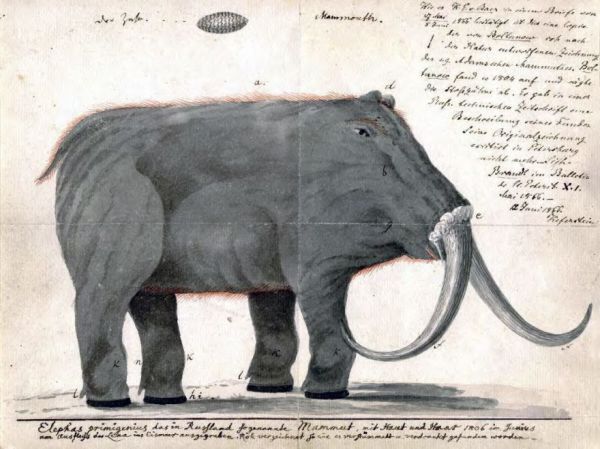 Between 1799 and 1804, reindeer farmer Ossip Shumachov watched a mammoth emerge from the ice during the summer thaws in a remote part of Siberia. By the time he brought tusk trader Roman Boltunov to see it, it had notably deteriorated from the intact specimen the ice had ejected. To be specific, the meat had been removed by animals. But Boltunov took some measurements and drew a picture of the mammoth.   
The drawing is crude, and depicts a strange swine-like creature with tusks pointing in opposite directions. The sketch "is a very good example of a reconstruction hindered by extreme ignorance of basic animal anatomy," paleoartist Mauricio Anton wrote in an email. "The body and legs are shapeless, and each foot ends in a sort of hoof-like structure unlike anything seen in elephants (or any other animal)." Even so, this somewhat laughable caricature was the first reconstruction of a mammoth known to science that was based on more than bones, McKay writes on his blog Mammoth Tales. Much to the chagrin of stuffy Russian biologists, it played a pivotal role in science's early understanding of mammoth anatomy.
Eventually, Shumachov's mammoth was removed from the tundra in pieces: bones, skin, and hair. It was the world's first mammoth to be reconstructed and put on display. Boltunov's original drawing has been lost; the image above is a copy. Read the story of what came to be known as Adam's mammoth, and the drawing that accompanied it, at Atlas Obscura.
Source: neatorama