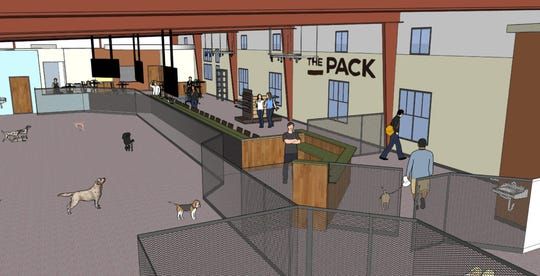 The problem with most dog parks these days is that people look at you funny or even make rude comments as you chug from your box of wine. They may ask intrusive questions such as "Do you even have a dog here?" or "Where are your pants?", creating an unwelcoming atmosphere.
The Pack Indoor Dog Park plans to resolve these problems when it opens in Comstock Park, Michigan in the summer. The Detroit Free Press tells us about this refined establishment:
Raechel Macqueen, co-owner of the forthcoming indoor dog park, said the 10,000-square-foot space will include open space for dogs to play and a seating area for their owners with food and drink.
The idea began brewing for Macqueen in April 2019 shortly after she had her baby and struggled with the logistics of taking their dog to the dog park in terrain not suited for a stroller.
"And I thought, 'Wouldn't it be so nice if there was somewhere that we could take our dog in Michigan that would be indoors and I could sit with her in one area and my husband could play with our dog in another area so he could get some exercise and attention?' Macqueen said.
[…]
The indoor park will include two main spaces, one just for dogs and adults and one for people to sit, eat, drink and hang out, with activities for children. Macqueen said they worked to make sure the space was open so people in the seating area could clearly see their dog.
-via Dave Barry | Image: The Pack Indoor Dog Park
Source: neatorama