In the weeks leading up to the 500,000-strong Women's March on Washington, D.C., three women artists in Laramie, Wyoming loaded up their art supplies and, as the Toni Morrison quote swarming social media at the time demanded, got to work.
Rather than trek 1,700 miles to Washington, June Glasson, Meg Thompson, and Adrienne Vetter joined hundreds of marchers in their state's capital. Their organization, the Wyoming Art Party, helped arm the caravan from Laramie not simply with Sharpied posterboard signs, but robust political tapestries, flags emblazoned with slogans, and sequined uteruses. Surrounded by pink yarn hats and chants of, "No registries, no walls, equal human rights for all!" the trio carried a plaster buffalo skull dripping with fringe and tapestry, marking them "The Wild Wombs of the West."
The Wild Wombs of the West all live in Laramie, each working multiple jobs to pay the reasonably-priced rural bills. Each has lived in larger cities, but eventually settled in the 30,000-person town. "We have a higher quality of life living in Laramie and more time for our art," says Vetter.
In preparation for the Women's March, Glasson, Thompson, and Vetter provided materials, expertise, and space for Laramie's marchers to elevate their protest tools to an art form. When asked if they're a political group, the women identify more with the social definition of the word "party," and their help isn't limited a single ideology. And anyway, Thompson says, "We can't show up every day if we don't like the projects and they're not fun."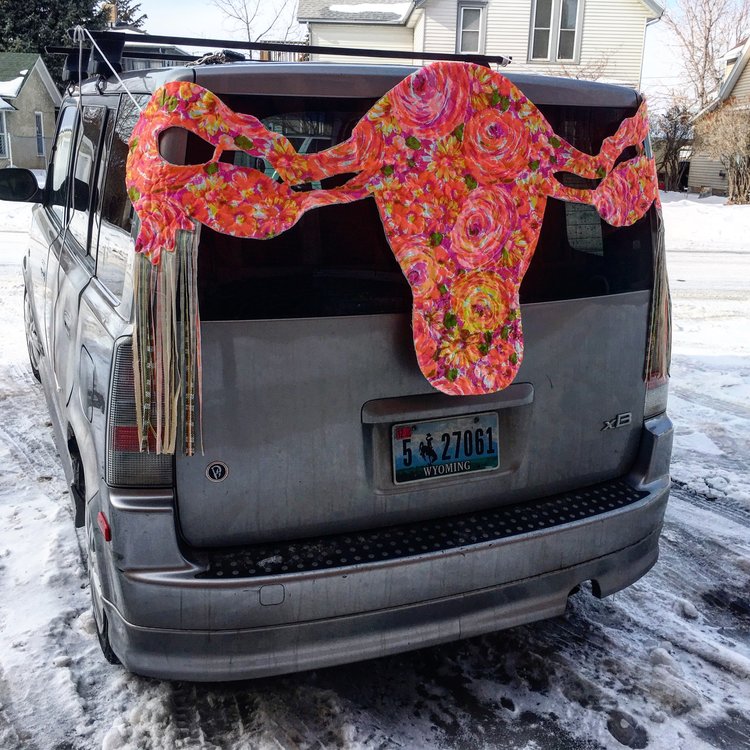 The seed of the Wyoming Art Party was planted in the process of a statewide collaboration-by-mail between visual artists, writers, and craftspeople. Portrait of Wyoming was inspired by "frontier creativity" Glasson and Thompson noticed throughout the state. According to the Wyoming Art Council, 58.7% of its citizens personally perform or create art, which is nearly 14% more than the national average. Glasson thinks it has to do with how isolated communities can be in Wyoming, the contiguous US's least dense state. As she explains it, "People make things with their hands here. Everybody makes things on the side."
In a 2014 effort to learn more about what Wyomingites were making, Glasson and Thompson coordinated 38 artists, including Vetter, to ship 19 boxes between Laramie, Alpine, Casper, Cheyenne, Daniel, Dubois, Jackson, and Pinedale. Each carried half-projects from one artist, poet, or artisan to be completed by another.
Through Portrait of Wyoming, Vetter joined Glasson and Thompson as a Wyoming Art Party organizer, and now the three share responsibility equally. "We intentionally keep our roles and organization very flexible," says Thompson. "It is genuine teamwork based on who has time, energy, or interest to do what part." Touring the state with pop-up galleries for Portrait of Wyoming in 2014 sharpened the the trio's values, introduced them to Wyoming's wider art community, and taught them how to find space for art.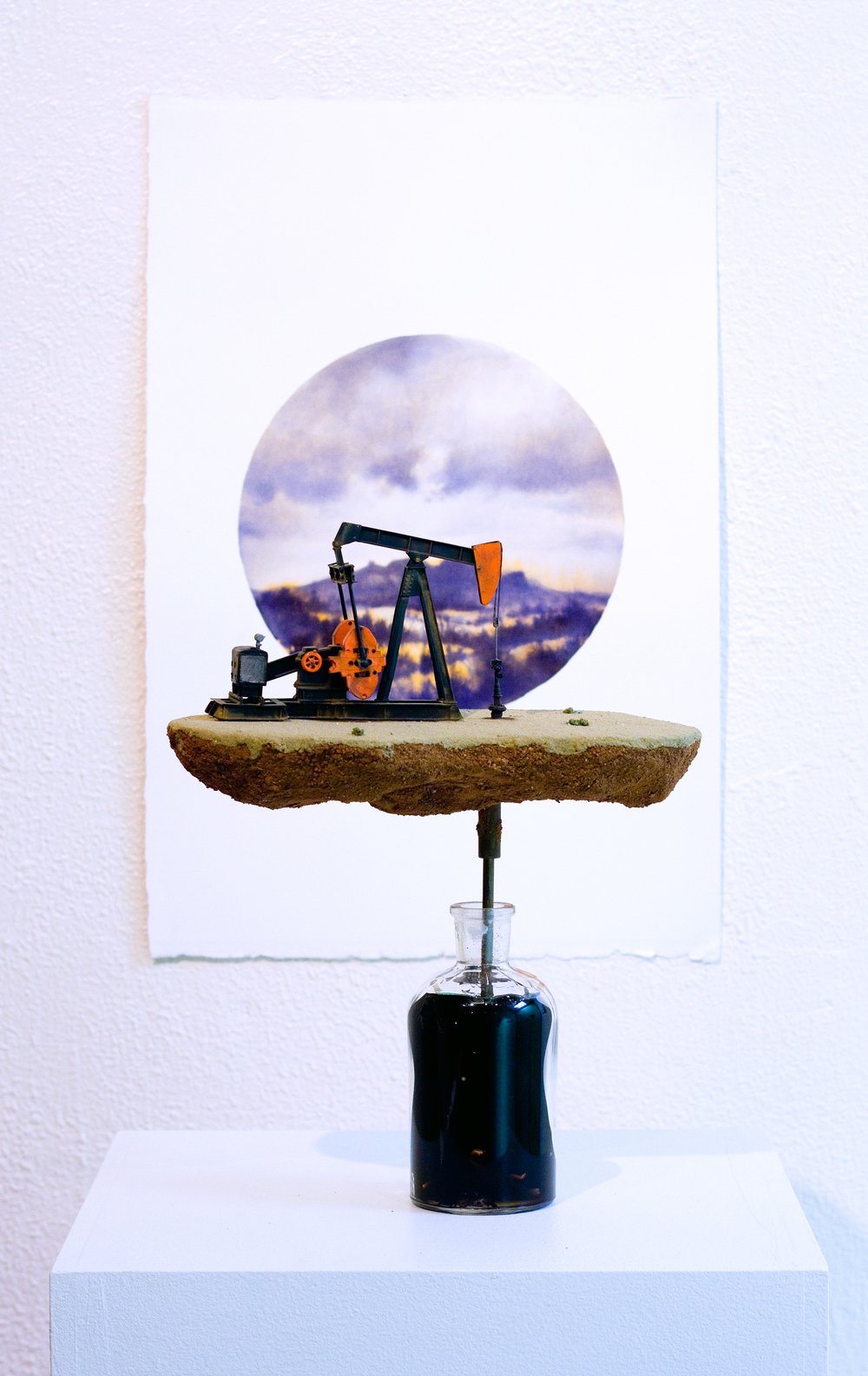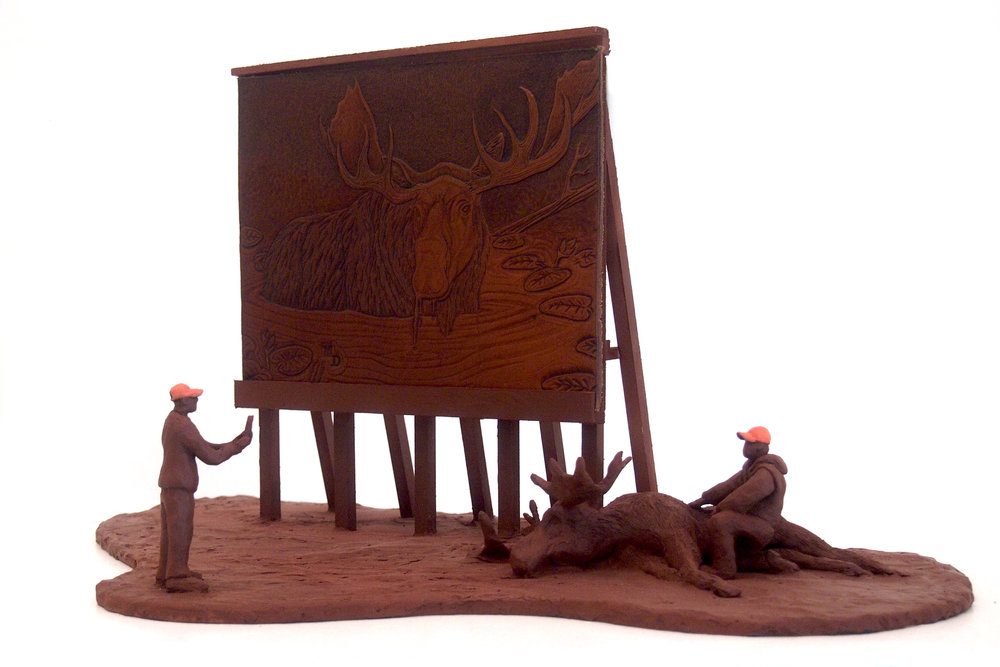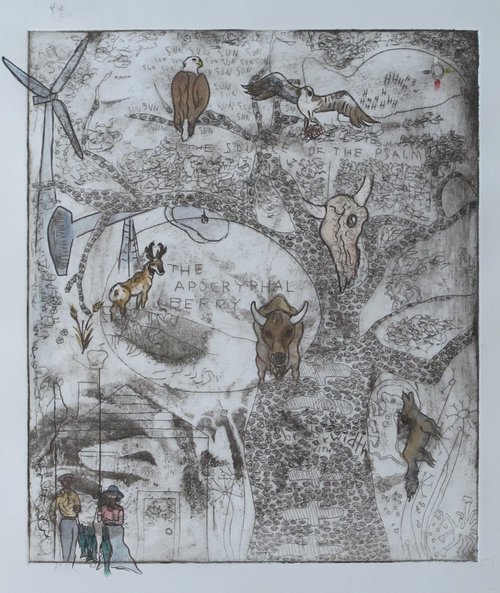 Before the the Women's March proved the value of their community and talents for activism, their efforts were spent hosting fairs and parades where local artists showed off their work inside local shops. The shopkeepers, it seems, are as happy to be patrons of the arts as they are for the extra foot traffic.
Since January, they've hosted ten more poster parties and workshops, ranging from a feminist Wikipedia edit-a-thon to a seminars about public lands and self-care. Their platform even attracted Laramie Mayor Andrea Summerville, who spoke about how citizens can affect Wyoming's legislature. "If you're not at the table, you're on the menu. If there a bill running in Cheyenne that you don't like, if nobody speaks up, then they're going to think that nobody cares, or it's ok with everybody," she said at the event. "Silence means that there's no opposition."
The fruits of their labor are documented in a new show at the University of Wyoming Art Museum called Topophilia, named for the love of a geographic area. For Glasson, Thompson, and Vetter, that means Wyoming.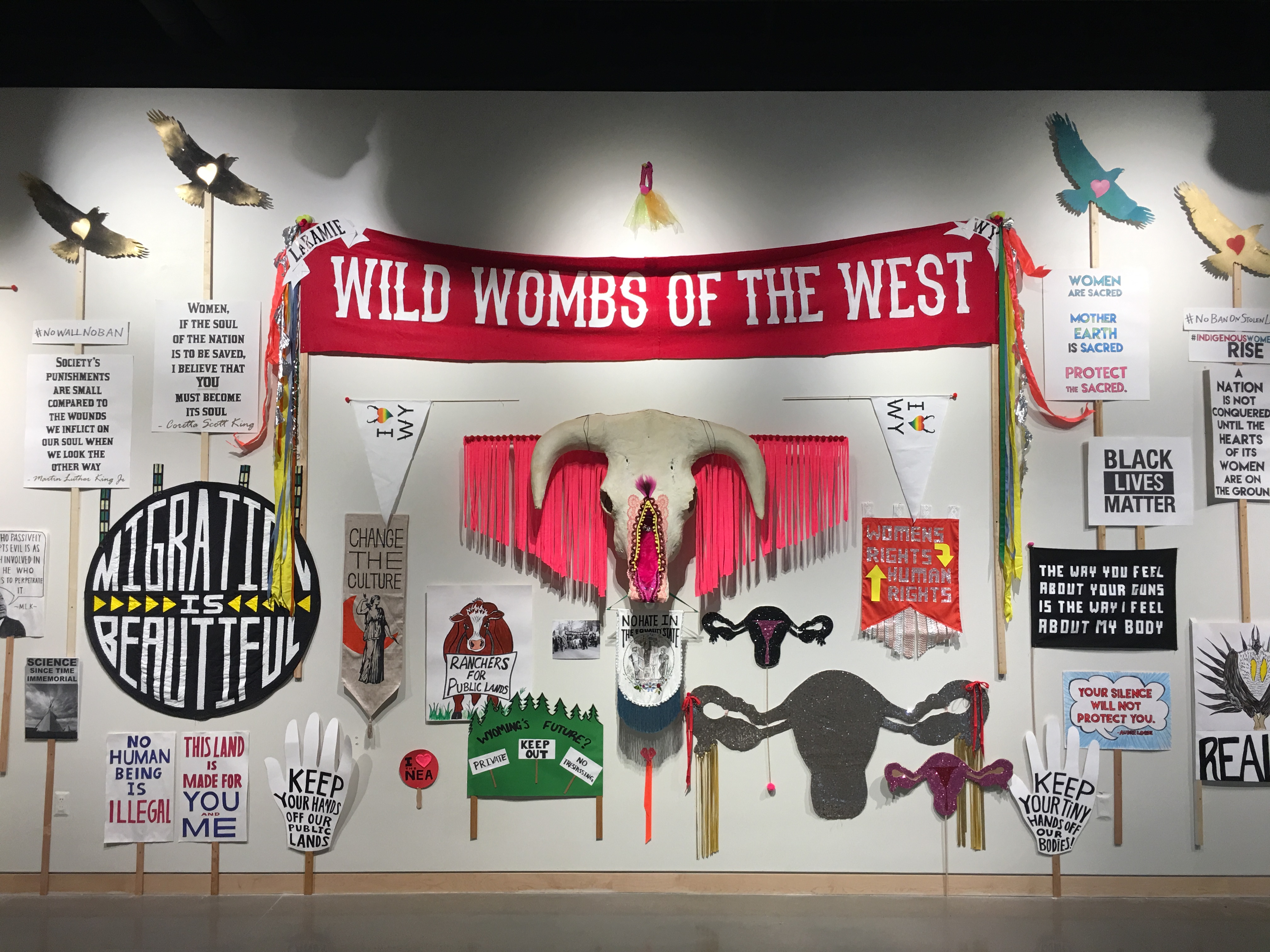 A Riverton, WY native descended from homesteaders, Vetter came to Laramie after acquiring an MFA at the University of Michigan. She collages at any scale, from the photographic to the life-sized, using found objects to explore her relationship with the American West. In an Ann Arbor gallery, she projected video of a Wyoming landscape onto the windshield of a car for an installation called Let's Go for a Drive, complimented by a recording of her mother recalling uncensored details of their life together.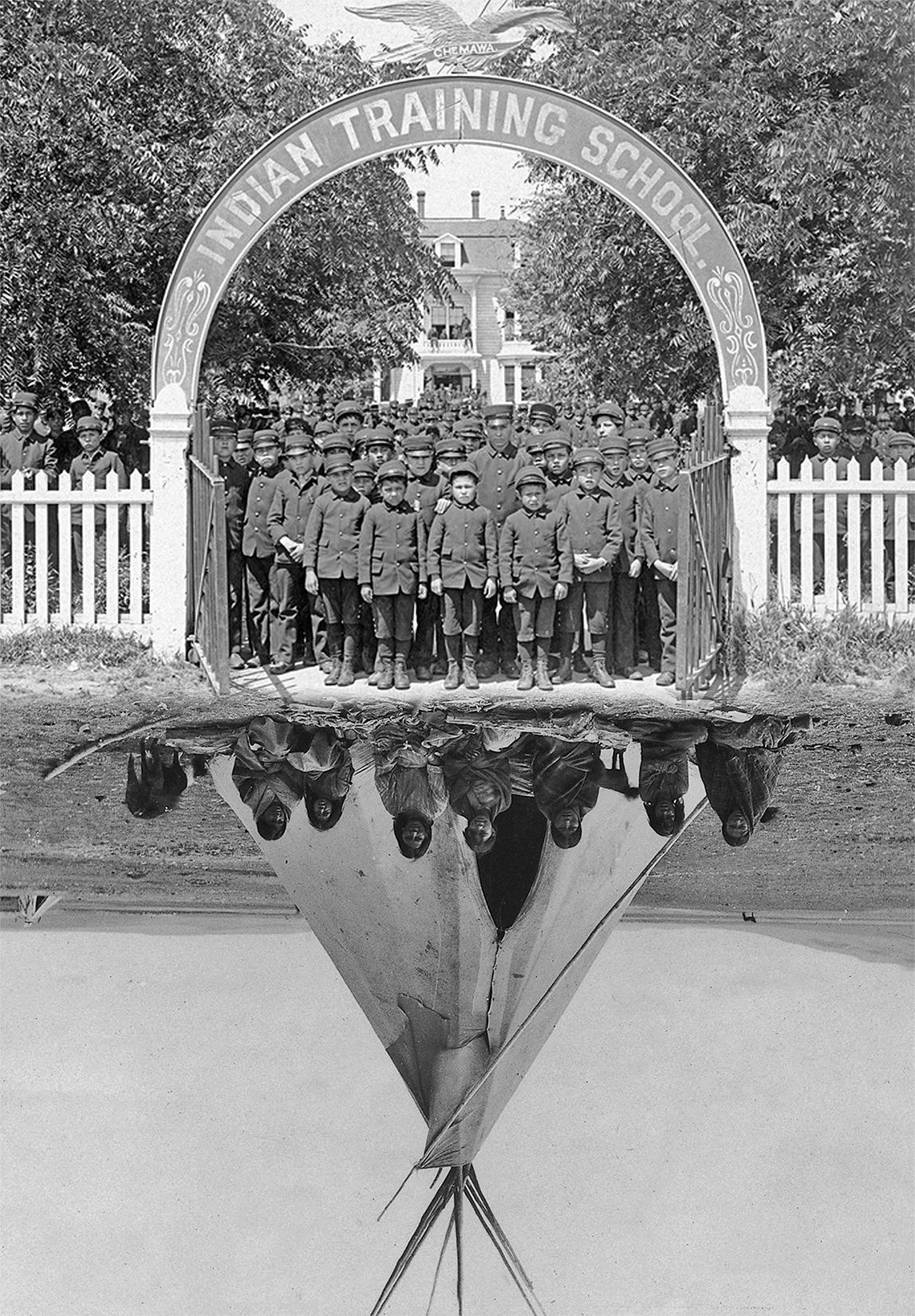 Glasson moved to Laramie, Wyoming from Bangkok in 2011 and has shown at the National Portrait Gallery in London, as well as galleries in Berlin and the US. A painter, illustrator, and designer, she incorporates objects of beauty, symbolism, and humor into dreamy portraits and poignant collages. After noticing the prevalence of trucks decorated with fake bull testicles in her community, she painted a study of American Flag Truck Nutz she found online. "You literally have the American flag wrapped around a pair of giant cast bulls balls," she says. "For me, it they seemed to speak some very specific ideas of American masculinity and patriotism."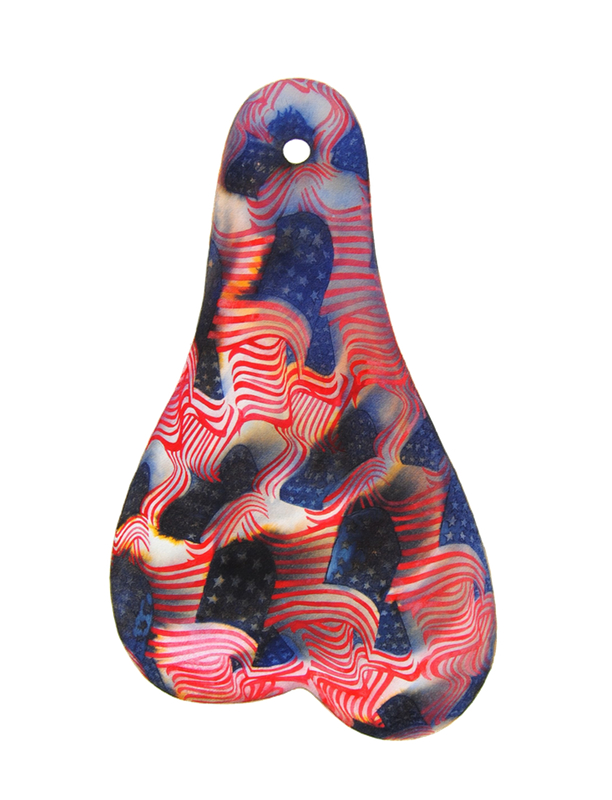 Thompson, a Wyoming native who spent time in Brooklyn, also moved to Laramie in 2011. A trained carpenter, she sells custom furniture and commissioned artwork to fund her art practice. She probes the American West through sculpture and mixed media work, often public, sandwiched between amber plains and cloudless skies. She and Glasson met shortly after her return to Wyoming and instantly clicked and embarked on a project that would lead to the Wyoming Art Party.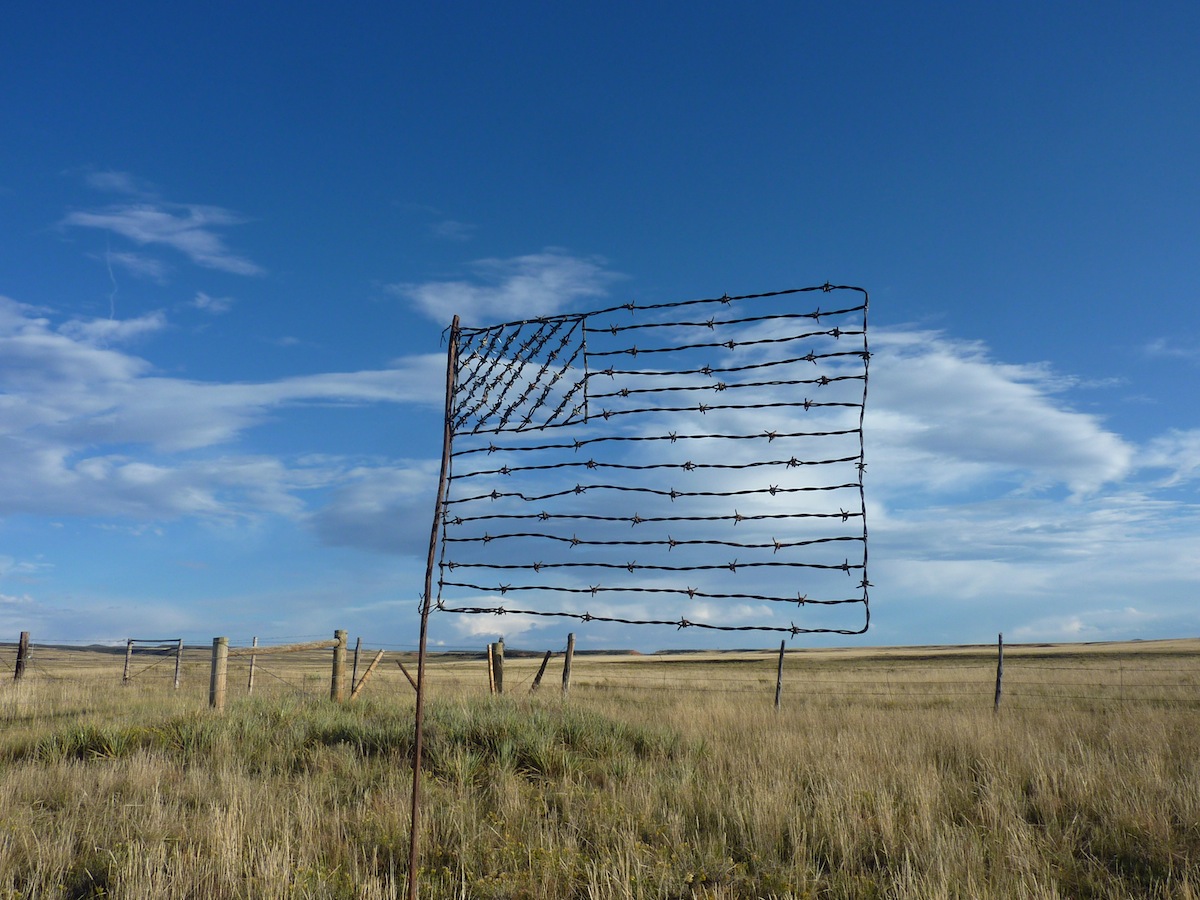 Much of the work interprets their experiences living in Laramie, but the centerpiece is the plaster buffalo skull created for the Women's March. It's yonic, particularly when displayed next to floral print, sequined uteri and the swarm of the slogans posters their community has created. In big letters above the skull is the tapestry: "Wild Wombs of the West."

Learn more about the Wyoming Art Party on their official website, and click their names for more work by June Glasson, Meg Thompson, and Adrienne Vetter. They're currently funding their activity through an online store and print shop.
Related:
This Animal Art Museum Is Like an Art History Zoo

The Wild West Is Alive and Well in These Nature Photos
Nature-Loving Artist Translates Wild Encounters onto Canvas
Source: vice.com