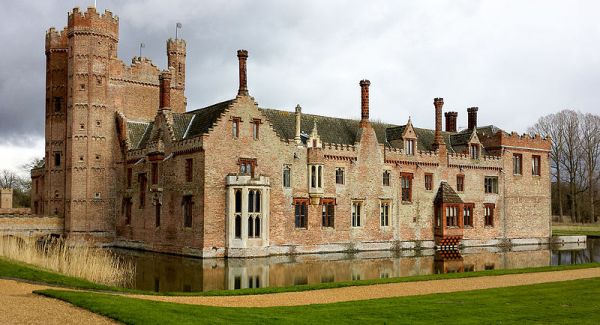 Sir Edmund Bedingfeld built a fine manor house with a moat around it in Norfolk, England, in 1482. Since then, Oxburgh Hall has been continuously occupied by Bedingfeld's descendants. As part of a roof restoration project, archaeologist Matt Champion was standing by to see what was underneath the attic floorboards, which had not been removed in all those centuries. What he found was more than he ever expected.   
The cache is one of the most remarkable "underfloor" archaeological finds ever made at a National Trust property, the British heritage organization says in a statement. Together, the objects offer a rich social history of the manor's former residents.

Among the discoveries are the nests of two long-gone rats that built their homes out of scraps of Tudor and Georgian silks, wools, leather, velvet, satin and embroidered fabrics, reports Mark Bridge for the Times.

The critters also repurposed roughly 450-year-old fragments of handwritten music and parts of a book. A builder recently found the rest of the volume—a relatively intact 1568 copy of Catholic martyr John Fisher's The Kynge's Psalmes—in a hole in the attic.
There were other objects stashed in the 16th century, along with some interesting finds from World War II above the floorboards. The Bedingfelds were staunch Catholics, which was dangerous in the Elizabethan era, when Catholic priests were tortured and killed for performing Mass. Researchers believe some of the objects found were related to secret, illegal rites of the time. Read more about the treasures unearthed at Oxburgh Hall at Smithsonian. 
(Image credit: DeFacto)
Source: neatorama