The treacherous legacy of colonialism still lingers in the shadows of contemporary life, but while the wounds of prior physical and cultural dislocation still heal, a new colonial frontier emerges in the form of possible human habitation on Mars. Granted, these prospects are immeasurably different from those that have happened on Earth, but they serve as an astute metaphor for our post-colonial lives in artist MPA's performance Orbit, which occurred at the Whitney Museum last month.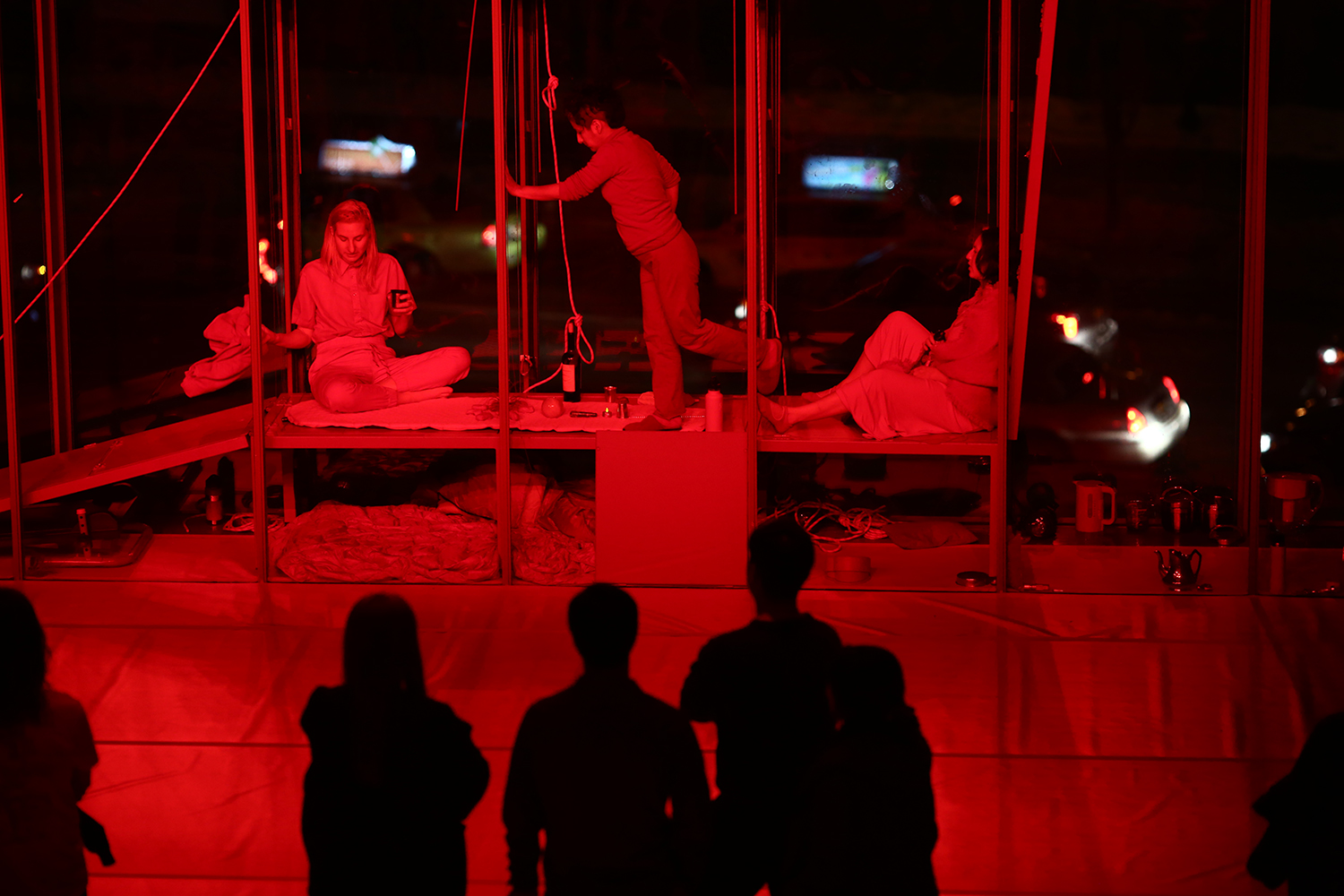 As part of her concurrent RED IN VIEW installation at the museum, Orbit saw MPA enact a durational "art-as-life" performance in the museum alongside fellow artists Amapola Prada and Elizabeth Marcus-Sonenberg. For 10 days in February, the trio lived in a claustrophobic section of the Whitney illuminated by vibrant red lights, where everyday functions were fused with meditative practices and performative actions inspired by attempts to introduce human life to Mars (as well as other ongoing spatial explorations of recent history). Many of the physical conditions and required tasks of the artists are meant to emulate those of astronauts, from daily activity logs to maintenance rotations of their surrounding "spacecraft."
The performance is the result of an ongoing exploration by MPA into humanity's colonial legacy. "My long inquiry into answering why and how humans have colonized one another and the material of this planet has led me to outer space. The very processes that connects humans as a species with Earth are the ways of being that have been murdered, imprisoned, and brandished as fake through colonizing behavior," MPA explains to Creators.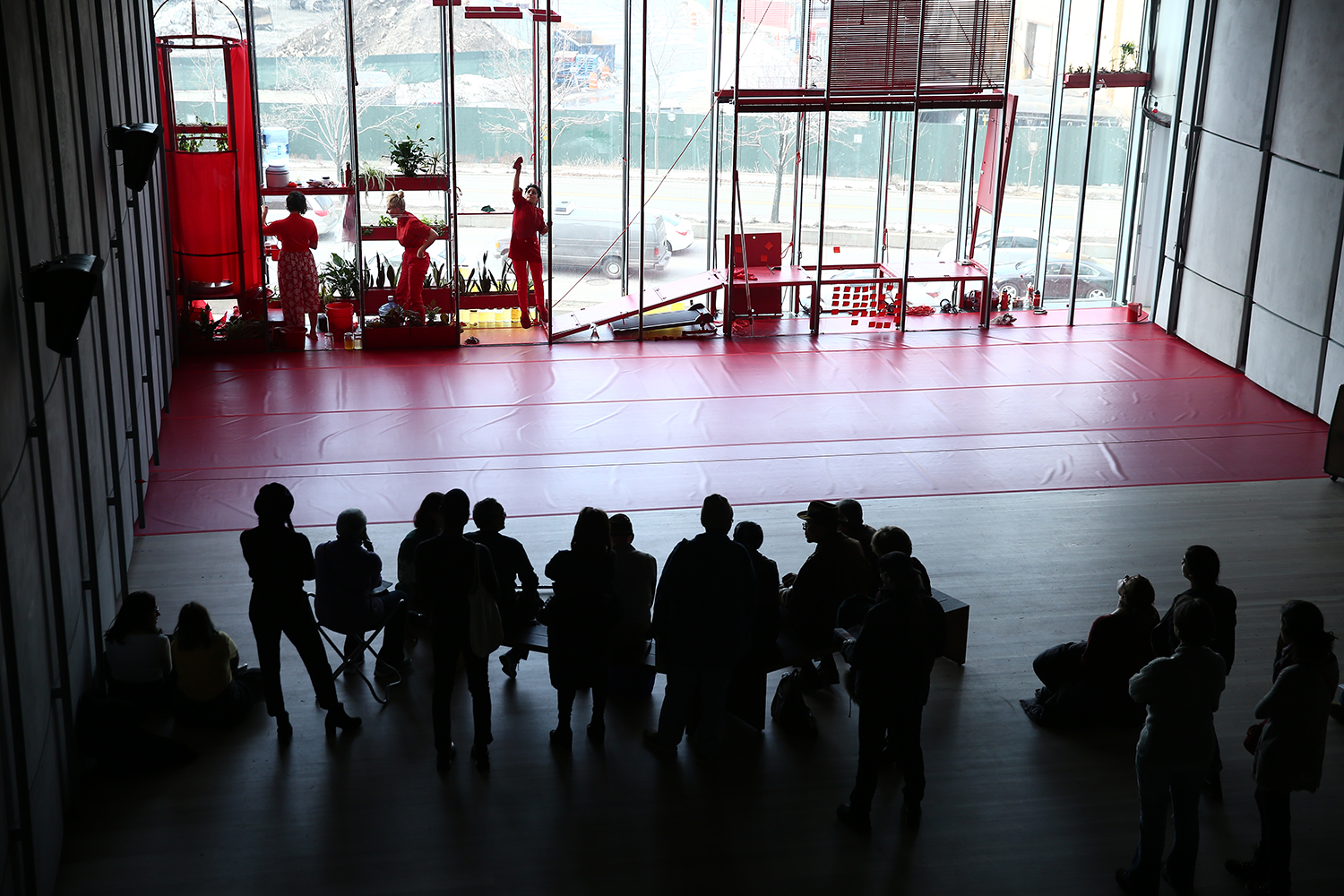 In a way, the performance functions as an alternative, empathetic model for how human interaction could (and should) be: "In Orbit, we proposed to exhibit a live picture of our three beings cohabitating, caring for one another, and engaging in energetic work that counteracted the forces of colonization that abuse, enslave, and slaughter humans and Earth materials," she adds. "I view Orbit as a form of incubation, as a holding space, a collecting space to offer another batch of material to the driving questions of human capacity to destroy one another and this planet."
Effectively a ceaseless performance during those 10 days, viewers could see the artists up close during museum hours, or at a distance through the museum's large glass windows after closing, morphing into a sort of IRL livestream that allowed passersby to see the performers sleep, exercise, and even enact bodily functions. Beyond these more standard daily activities, a series of "Climax Clock" performances happened daily, during on and off hours of the museum, where performers engaged in "daily points of intensity" with one another.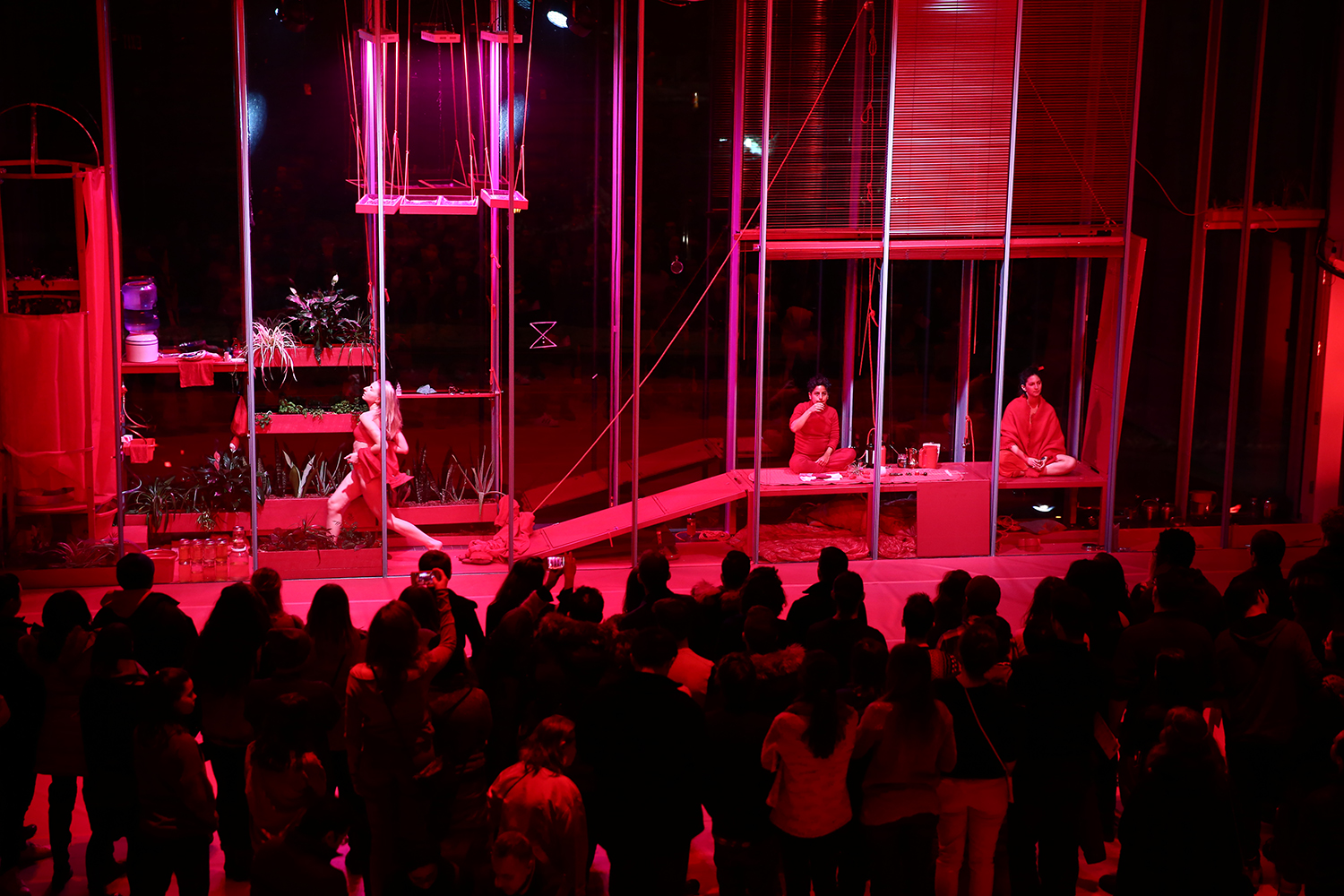 Each artist responded to these premeditated moments of heightened activity differently: "I was quite invested in the theatricality of the experiment, and liked to embody characters and characterizations of red emotions for each of the five-minute climax marks," MPA reveals. "Amapola on the other hand, often prepared for a climax an hour before, working with breath and meditation or physical exercises to reach the peak of her energy. Elizabeth experimented with a range of expressions from the way she was eating to sleeping to ecstatic expulsions."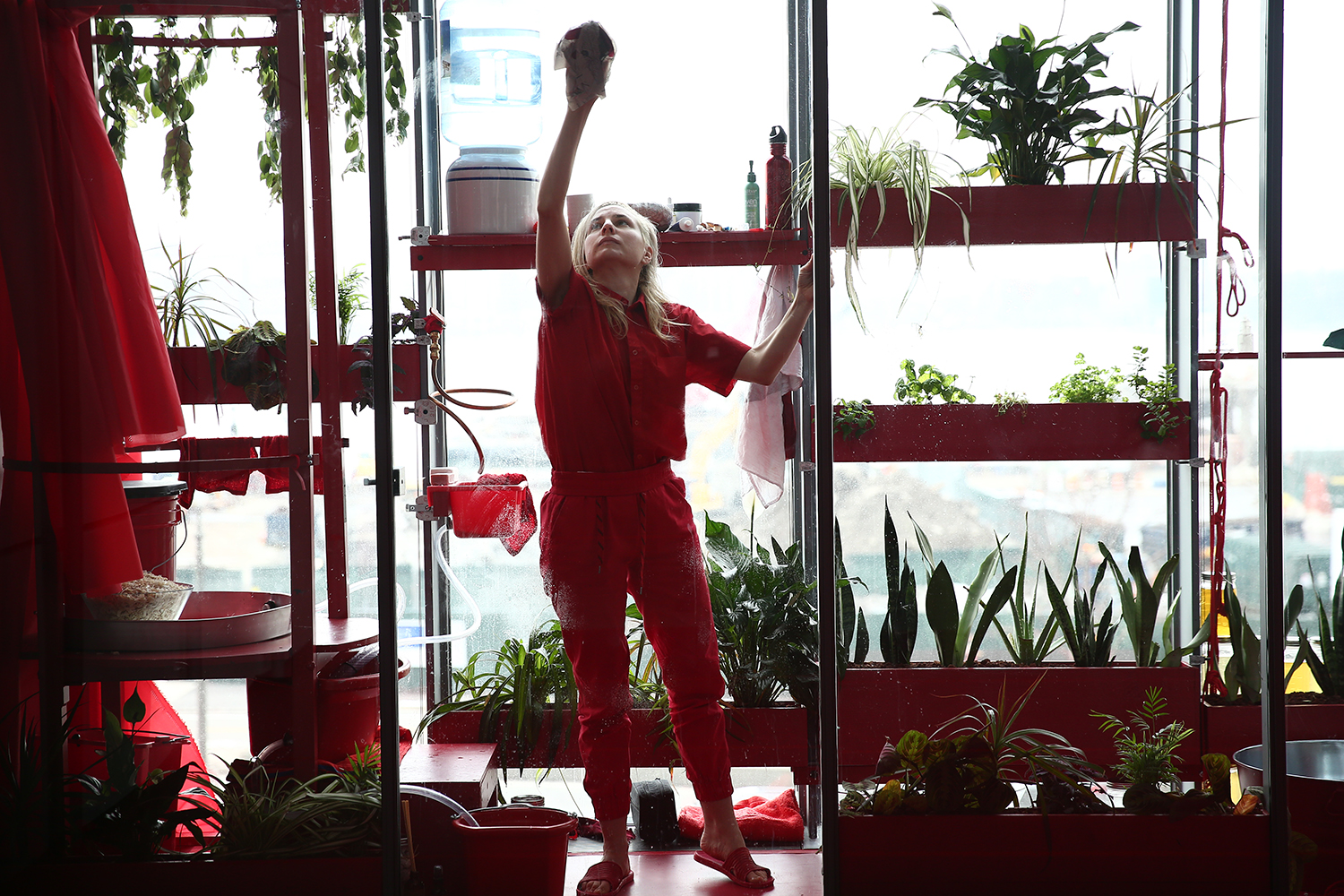 Throughout all of this, MPA believes the trio morphed into a singular organism of sorts: "We entered Orbit as individuals with some shared intentions to live in Red as a method to reconnect with the base and root chakra in our bodies. When entering Orbit, our differences in performing, eating, and cleaning were tenser. By the time of exiting Orbit, we could hold one another's differences and felt less conscious of being watched," the artist explains. "We began by making a picture, and left being a picture."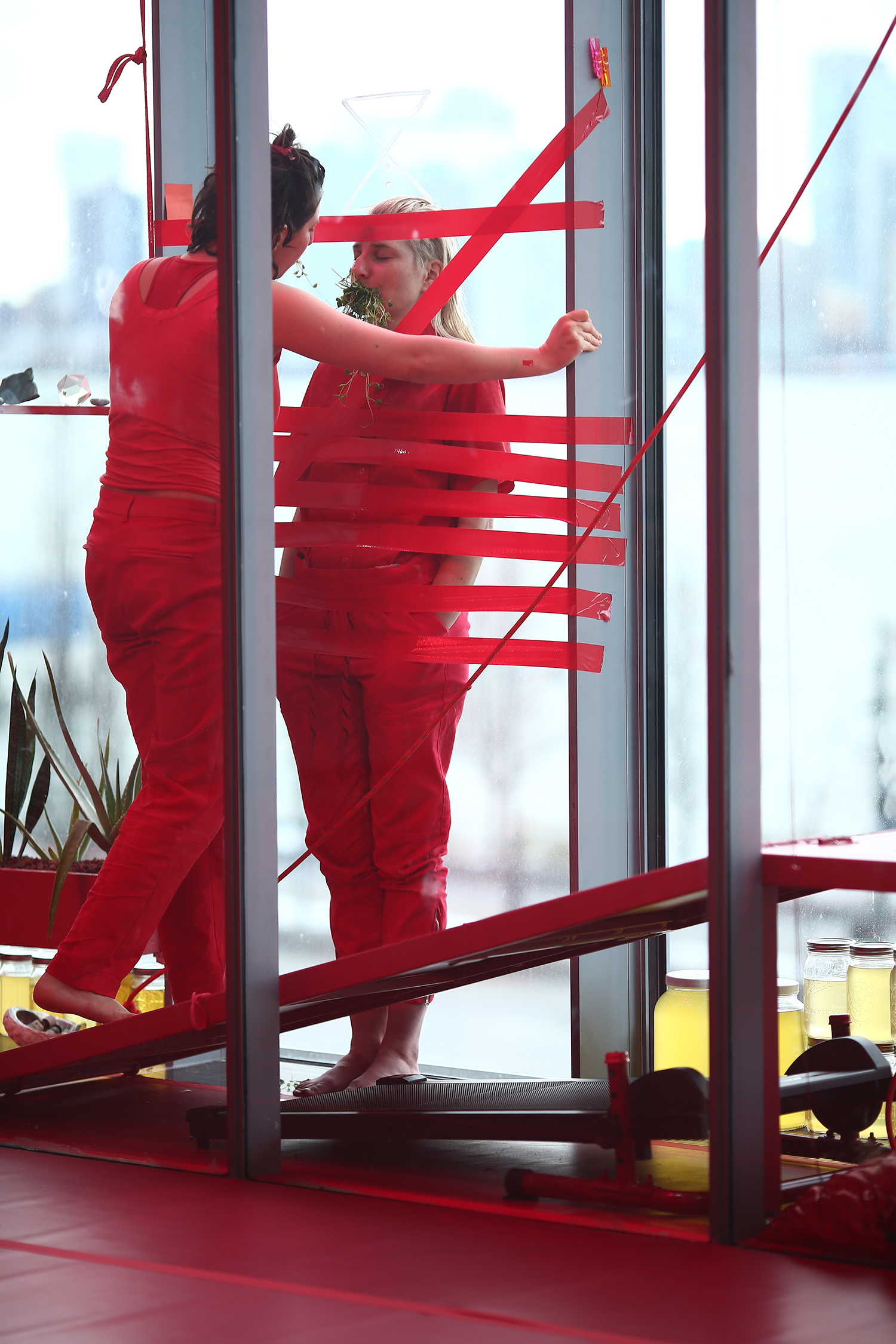 Orbit and MPA's accompanying exhibition RED IN VIEW recently finished their run at the Whitney Museum, but more information on the performance and show can be found here.
Related:
Explore the Red Planet With a Mega-Map of Mars' Topography

[Premiere] Mars Comes to Miami as an Immersive Interplanetary Experience

[NSFW] Nocturnal Emission to Mars with This Wild Sci-Fi Erotica
Source: vice.com