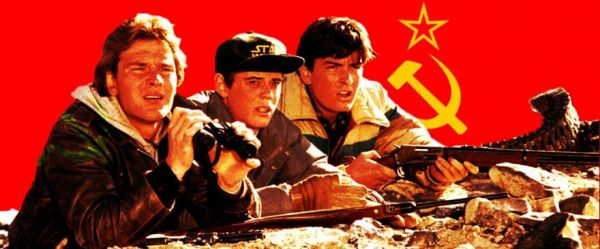 The 1984 movie Red Dawn was an action-packed speculative war movie designed to appeal to teenagers. Communist forces from the USSR, Cuba, and Nicaragua parachute into a small town in Colorado and a group of high school students form a band of guerrillas to fight back. It had an all-star cast, high production values, and extreme violence that made it an exhilarating ride, while the character development was nonexistent and the plot was altogether ridiculous. Mel magazine asked three movie buffs who are self-identified communists to share their thoughts on Red Dawn.   
Skylar: The movie barely addresses communism. It took communism to mean the authoritarian enforcement of social uniformity, rather than resource distribution and emancipation of the working class, as it had to show communism as irredeemably evil and lacking in any humanity. Communism and Slavic, authoritarian militarism are so linked in peoples' minds that we don't actually have a way of thinking about communism without Russian authoritarianism. I certainly can't speak for all communists — many saw the Soviet Union as going away from the ideals of communism long before it fell — but communism and Soviet authoritarianism is still intertwined in people's minds, and most Americans remain confused about it.

In fact, what became clear over the course of the Cold War was that it wasn't an ideological struggle at all. Instead, it was just about these two large countries jockeying for geopolitical power and the ideological stuff was just a veneer. Which is kind of true of this movie, too.

Robinson: Oh, it portrays communism badly, but in a way, it doesn't really convey it as an ideology at all. There's that re-education camp, and at one point, I heard someone say, "America is a whorehouse," but that's about it. It's full of anti-communist propaganda, but like most propaganda, it's devoid of the substance of what they're actually portraying.
There's a lot more, but it's not all about political ideology. The three agree that Red Dawn, with all its faults, was a memorable experience -possibly because they were all young when it premiered. Read their analysis at Mel magazine.

Source: neatorama