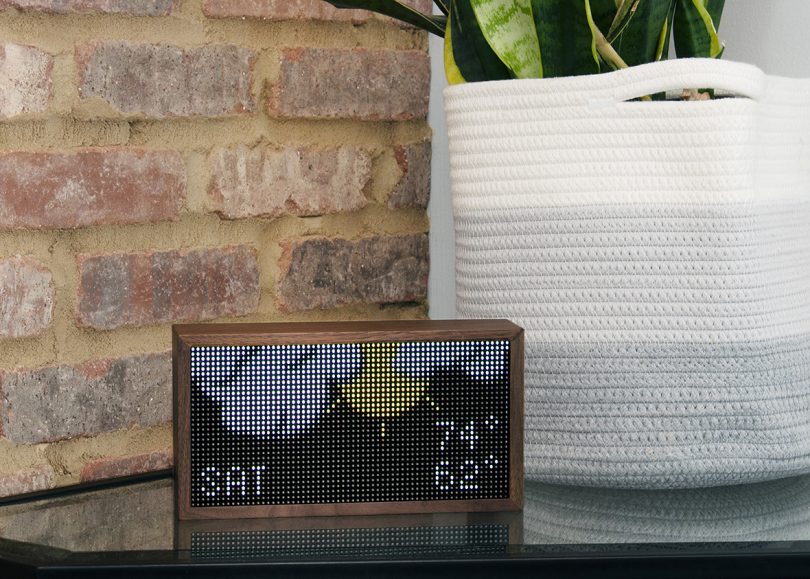 When it comes to screens and displays, higher resolution is almost always better. 4K, 8K, Retina display…our mobile, entertainment, and computing devices are perpetually inching towards imperceptible pixels. On the other end of the spectrum is Tidbyt, the antithesis of high resolution, a small desktop Internet-connected display that's intended to keep you up to date about relevant information you want without all of the distractions that come with most notification-based devices.
Designed in a Brooklyn workshop, Tidbyt's creators Rohan Singh and Mats Linander are leaning into a retro design, not only imparting the display device with a gloriously low resolution arrangement of 64×32 pixel LEDs, but also framing it in a solid wood enclosure to give it more of a home decor feel rather than solely gadget-like presence within a living space.
And unlike other the plethora of tech we increasingly invite into the home, Tidbyt's designers were conscious of subtracting microphones, speakers, or buttons to keep their device focused on displaying the time, weather, photos, commute times, sports scores, music playlists, and more.
Extra geeky points: Tidbyt is totally hackable, and the company invites anyone to write their own apps to expand the options of what is displayed on their creation.
The Tidbyt is available for $179, with free shipping and covered by a year warranty, making it a unique holiday gift for someone who always wants to stay informed, but not distracted.
This post contains affiliate links, so if you make a purchase from an affiliate link, we earn a commission. Thanks for supporting Design Milk!
Source: design-milk