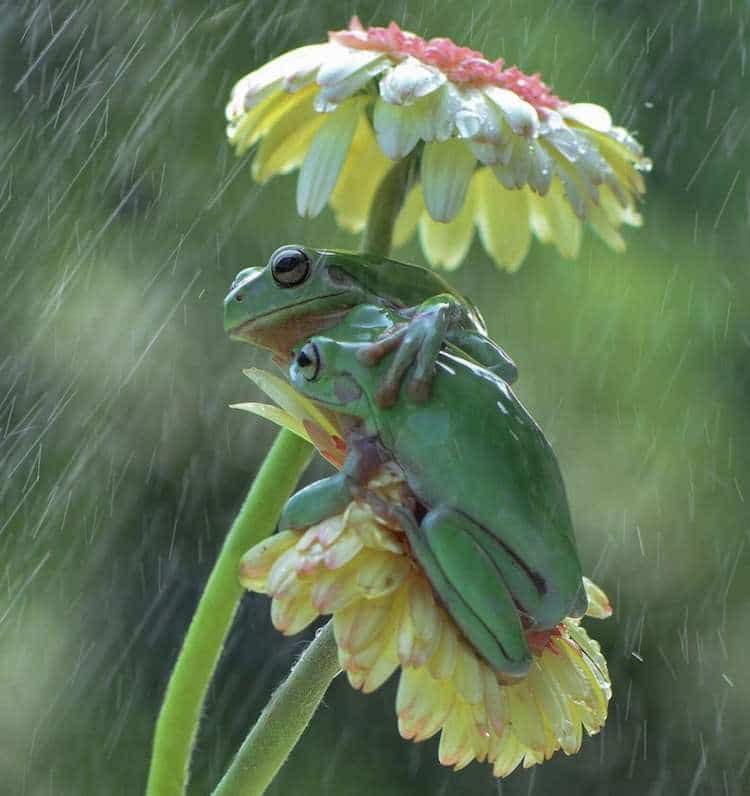 This holds major Studio Ghibli vibes! Indonesian wildlife photographerAjar Setiadi takes photographs of frogs that live in his garden. His images reveal the fascinating behavior these amphibians exhibit. Setiadi treats the animals as pets, letting them frolic in his garden as he watches them play with the flowers. According to the photographer, capturing their small moments on camera is a miracle:
In one image, a frog in the rain holds up a leaf like an umbrella, and in another, two frogs appear to dance together. There's one image in particular that stands out as the most charming, though: Setiadi managed to capture two frogs huddling together, sheltering from the rain under a flower umbrella. Frogs are social creatures, and this emotional image looks just like a loved-up couple or two friends who are looking out for one another during the rainstorm. Setiadicommented on the sweet scene: "I could only get a few frames because this moment can't be repeated."
Check out Setiadi's frog images below and find more from his portfolio onInstagram. When he's not photographing frogs, he's capturing the intimate lives of insects, birds, and reptiles.
Image credit: Ajar Setiadi
Source: neatorama