Tommy Lennartsson is a Swedish artist who challenges the relationship between angles, light, and darkness to manifest vibrant, playful universes in his artwork, full of patterns, forms, and figures. By combining materials, found fabrics, and layering mediums such as acrylic, charcoal, spray paint, markers, pastel, and airbrush, Lennartsson creates a patchwork with different elements of sewn fabrics for his expressionist canvases.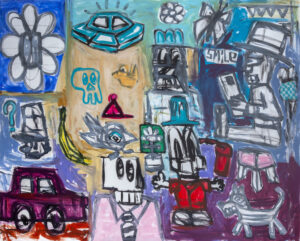 Hi Tommy, we were so glad to have you on The Other Avatars. Can you tell us a bit about yourself?   
Hello, my name is Tommy Lennartsson. I work and live in Sweden.
My art is a mix of abstract and figurative elements, inspired from daily life and street and pop art. I mainly work in mediums like acrylic, charcoal, graphite and gouache. Sometimes even spray paint!
When did you first start creating art and how did that evolve into becoming a professional artist?
I guess I've always done some kind of art even if it was only doodling on paper and trying to use acrylic in my early days.
It was about 12 years ago that I started to think more seriously about my art. I began to paint on canvases with acrylic. After a short period, I started to show my art in different events and exhibitions. And only 2 years later, I had my first big solo show at an art gallery in Stockholm.
I always knew that Sweden had a small market for art so I researched online what would work for me and my art. My international career started with Saatchi Art! Today I am represented by different art galleries in the USA, Israel, and Italy.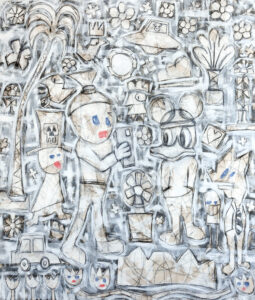 What interests you about NFTs and why did you choose to be involved in this project?
I didn't know much about NFT before and thats why I thought it would be a new challange for me to be a part in this project!

How did you approach working on The Other Avatars? Did you find any surprising challenges along the way?
In the early stages I had a vision of how my avatars would look. Not too digital – more like a traditional handmade collage. I wanted the viewer to see that there are different elements put together. I started by searching through my original paintings to figure out which elements I would use in my avatar collage. Luckily, I was familiar with photoshop since I've done this kind of artwork before by combining different elements from my existing paintings. The most challenging must have been making sure to use the different traits and to be "unique" but I had fun working digitally again!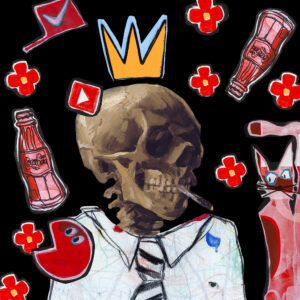 After having participated in The Other Avatars, what advice would you give to artists who are thinking of creating NFTs or collectors who are interested in NFTs?
I would tell new artists to just go for it! There's nothing to lose. Any experience is good for you!
I do appreciate the opportunity I got to be included in this project. It's also been fun to see all other artist final results!
And I will definitely be creating more artworks for the NFT market in near future! So for all collectors, there are more to come…
Love reading about all things art? You can have articles from Canvas, curated collections, and stories about emerging artists delivered straight to your inbox. Sign up for the Saatchi Art Newsletter.
Source: saatchiart.com