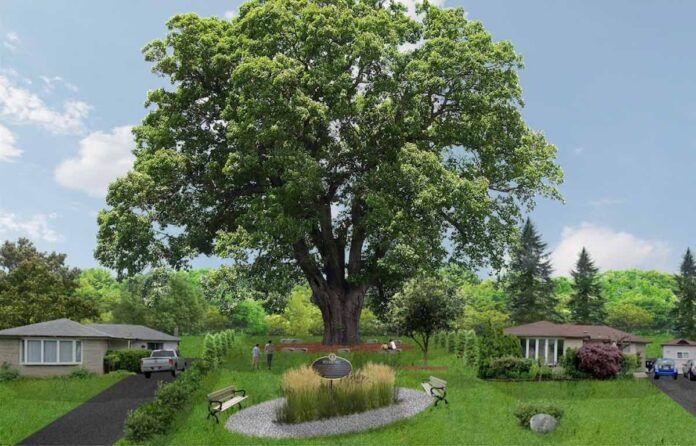 This is one of Canada's oldest trees. Recognized as a heritage tree under Forests Ontario's Heritage Tree Program, this tree, which is believed to be over 250 years old, spans 78 feet (about 23.8 meters) and has a trunk circumference of over 17 feet (over 5.18 meters).
A decade ago, Heritage Toronto unveiled a commemorative plaque, which captured this great oak's place in the city's natural heritage, which reads in part:
"The large red oak (Quercus rubra) situated in the backyard of 76 Coral Gable Drive is more than 250 years old, making it one of the oldest in the city. Before Europeans colonized this area, the Humber River branch of the Toronto Carrying Place trail system Opens in new window passed nearby. The tree was part of its delicate savannah ecosystem. This network of trails and portages was used by Indigenous peoples to travel between Lake Simcoe and Lake Ontario and to trade throughout what is now Southern Ontario and beyond. The tree survived European settlement despite logging along the Humber River, clearance of the land for agriculture, and the development of this suburban neighbourhood in the early 1960s. The Coral Gable Drive red oak is a remarkable specimen of its species."
But when the property where the great oak tree stood was bought by a homeowner, it was put on the verge of being cut down. Thanks to the effort of the Toronto City Council, however, the tree wouldn't be cut down.
On November 26, the Toronto City Council voted to preserve this mighty oak by authorizing the purchase of the property for the creation of a mini-park.
With generous monetary support from 1,300 donors helping to raise money, the city will make up any shortfall to secure the property's purchase and establish the space as a parkette, to preserve and showcase this beautiful oak.
That was close!
(Image Credit: Toronto City Council (Concept Illustration))
Source: neatorama