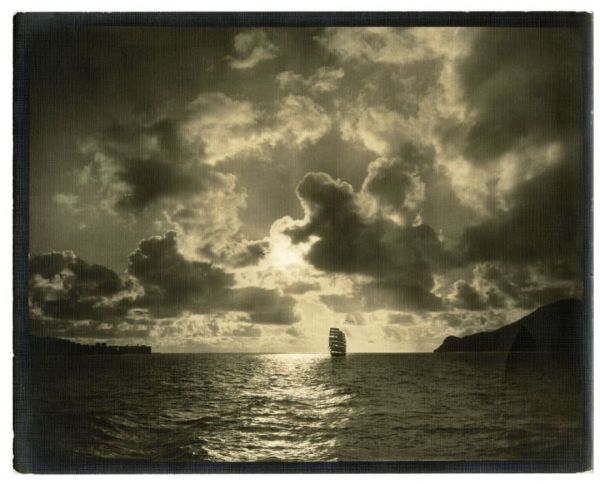 San Francisco's history has some startling touchstones that, lucky for us, were documented in photography, from the Gold Rush that brought people from all over the world to the San Francisco earthquake in 1906. Los Angeles had its own milestones during that time, growing from a beach paradise to a megalopolis. The photographers who documented those changes did not have an easy time of it. The California Historical Society has an exhibition open through March entitled Boomtowns: How Photography Shaped Los Angeles and San Francisco. The society's managing curator, Erin Garcia, gives us some insight into how those photographs were made.
"I think the earliest and best example of Californians pushing the limits of photography is probably Carleton Watkins having a custom-made, cabinet-sized camera built to take with him to Yosemite in 1861," Garcia says. "The literature suggests that he wanted his photographs to be hung on walls, to be framed and viewed like large paintings. There was no way to enlarge a photo at the time, so the way you got a bigger picture was to use a bigger negative. And to get a bigger negative you had to have a bigger camera, so Watkins used this gigantic custom-made camera with glass plates he had to haul all the way to Yosemite. It was just so absurd."

Besides carrying unwieldy equipment out into the California wilderness, Watkins would have had to coat each massive glass plate with a sticky collodion solution and develop them in his darkroom tent. Watkins also captured panoramic shots of San Francisco; the resulting mammoth-plate albumen prints, at around 14 inches high by 20 inches wide, give firsthand viewers an impressive window into the period that can't be replicated by copies online or in print.

Meanwhile, Muybridge was working to perfect complex panoramas and improve shutter speeds so he could stop motion entirely. "The technology that he pushed, it's just absolutely incredible," Garcia says. "We have a 360-degree panorama on view taken from the Mark Hopkins residence on Nob Hill. Muybridge had to figure out how to make a 360-degree view, which no one had really done, though there had been some attempts. It was a very tricky thing to do because you would have to divide the horizon into equal parts, and then, on the ground glass, which is showing you a picture upside down, you'd have to somehow get the horizon lines to align. You'd have to manage the sunlight, always keeping the sun at your back so that your camera's not looking directly into the sun. It would've taken many hours, so it was an incredible logistical and technical accomplishment."
Read more about the photographers who gave us images of the history of California at Collectors Weekly. Yes, there are plenty of pictures.
Source: neatorama