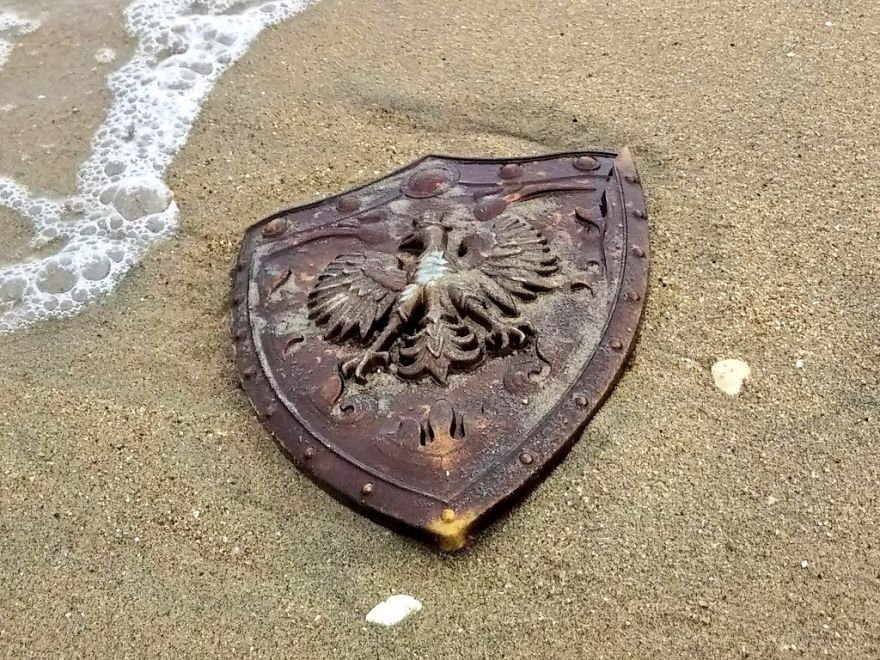 A new quest has appeared for the people of the Internet- to find the owner of a lost item. Twitter user @shika_no_suke1 was walking along the beach when he spotted an interesting item, now the subject of mystery and intrigue on the Internet – a hero's shield :
"I was taking a walk on the local beach, and this hero's shield-looking thing washed up. I wonder if he was able to finish his quest safely," tweeted @shika_no_suke1 with the photos.
Sadly, it seems that @shika_no_suke1 is not destined to rescue any kidnapped princesses, slay any dragons, nor defeat any dark lords. "After I took the photos, I reached out to pick up the shield," he reports, "but then a wave came and swept the shield back out to sea. It seems I'm not worthy of becoming a hero."
The shield swept back at the sea did not stop the netizens from finding out the mysterious shield's owner. In an interesting turn of events, multiple commenters have claimed the shield to be their own – or their offspring's, bought for 200 gold:
"Before my child set out on his adventure, I recall that he went to the weapon and armor shops Daiso and Seria, where he purchased this shield, and a sword too, for 200 gold."
"I believe this is the same legendary hero shield I obtained at the armor shop Seria in 2010."
It seems that @shika_no_suke can forge his own destiny to slay dark lords and mythical creatures by purchasing a shield of his own from Daiso or Seria.
image credit: via @shika_no_suke1
Source: neatorama