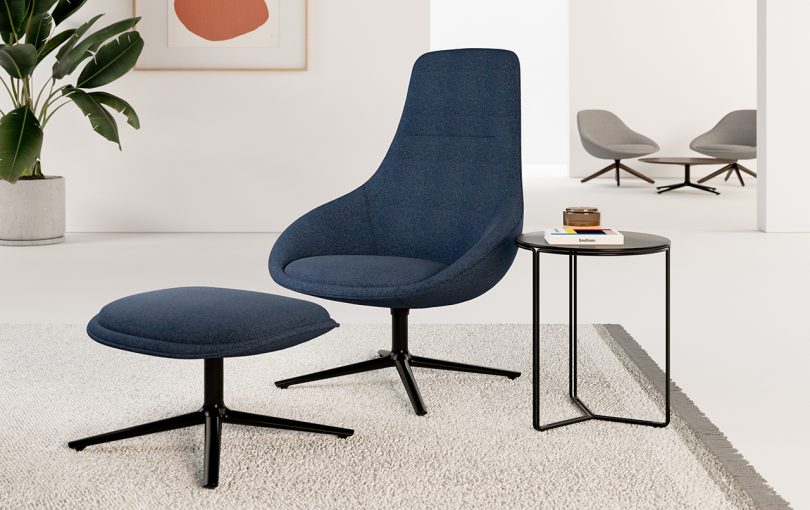 Designer Brandon Walker has created two new pieces of furniture for seating brand Stylex that will make their debut at NeoCon next month. The Cove High Back, the latest addition to the Cove Lounge Family, functions as both furniture and sculptural art. Umo is a sculptural, solid-wood table that adds utility and visual warmth and blurs the line between residential and commercial spaces. Keep reading to learn more specifics on both pieces.
Once you read this you'll see it – the chair was inspired by the shape and design of a Japanese soup spoon! The Cove High Back supports a range of seating positions, formal and relaxed, thanks to its slightly raised arms, wide base, strategic padding, and extra flex. The height of its back encourages privacy when used as a statement piece or a place for conversation when grouped together.
Choose from three base options and 31 wood, metal, and powder coat finishes to suit every aesthetic. There's also the option of a low or high back upholstered shell that features a rigid, plant-based polyurethane with molded foam topper. A matching ottoman is available for an even more welcoming arrangement.
Sustainable design features of the High Back include being Greenguard IAQ Certified, Level 1 Certified, water-based adhesives, and meeting Healthcare Without Harm Healthy Interiors Criteria. It's also made in the USA.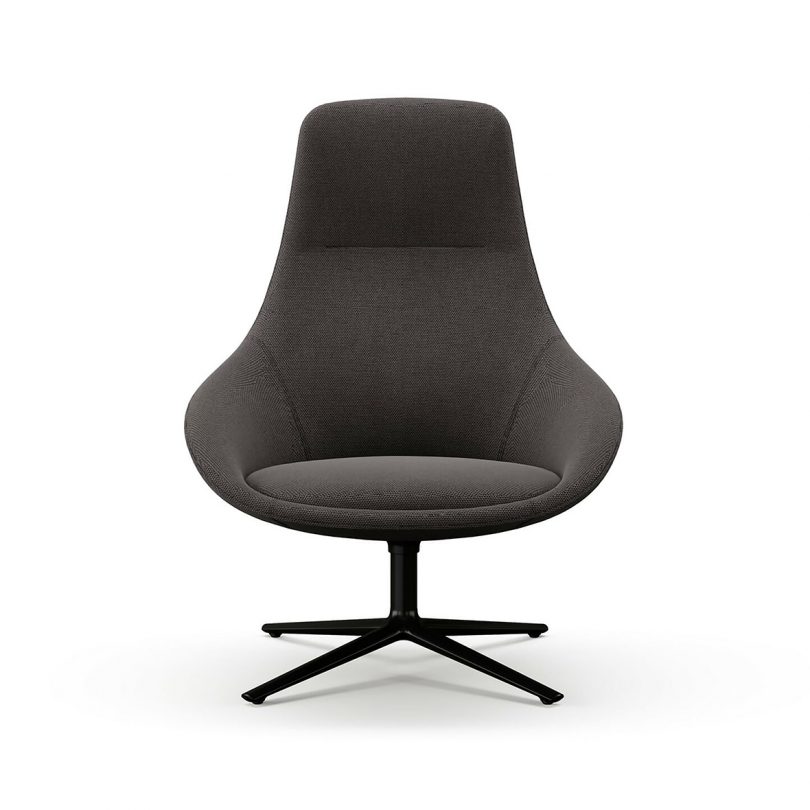 Umo is a multifunctional wood piece, meant to serve as an accent table, sculpture, and even extra seating. In its design, Walker brought together geometry and form. These curved shapes and angular cuts create its most impressive detail: legs that create arched porticos. Umo is available in Maple, Oak, and Walnut, as well as Oak with an opaque black finish. Each piece sealed with a clear, water-based finish that showcases the wood's natural grain. Manufactured in upstate New York, it's Greenguard- and Level
1-certified. It's also available in CET, making it easy to specify.
To learn more about Cove and Uno, visit stylexseating.com.
Source: design-milk