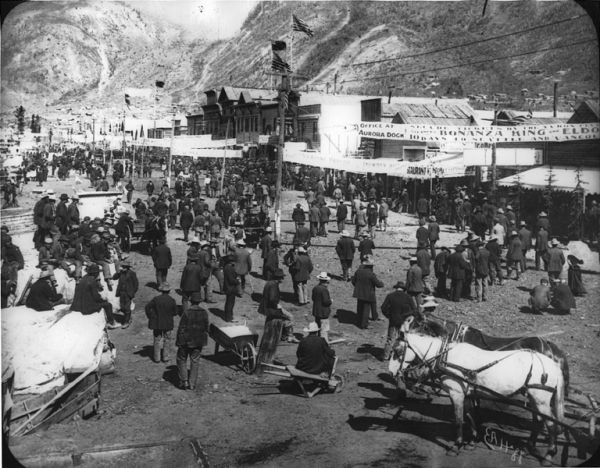 Dawson City in Yukon, Canada, became a hub of the gold rush in a hurry. Founded in 1896 just 350 miles below the Arctic Circle, the town's population grew to 40,000 people in just two years. That boom only lasted as a long as the gold rush, and then the Yukon capital leveled off to 8,000 inhabitants. But during its peak, Dawson City was the base where prospectors and miners (and the vendors who supported the industry) gathered for supplies, mail, and entertainment.
In its heyday, Dawson had been the final stop for a distribution chain that sent films and newsreels to the Yukon, receiving the best the movie industry had to offer. In fact, it was a bit of a hot-spot for certain Hollywood elite. Sid Grauman (of Grauman's Chinese Theater) lived there for a while, as did director William Desmond Taylor who made over 59 silent films, including Tom Sawyer and Huckleberry Finn. When it came to sending back the film reels to Hollywood, it wasn't exactly a priority for the town and by the 1920s, over 500,000 feet of film had accumulated in the basement of the local library.
This repository was forgotten for the next 50 years, and was only discovered in 1978. Read about Dawson City and its place in cinema history at Messy Nessy Chic.
Source: neatorama