To help conquer those dismal work-from-home setups many of us are still operating at three plus years later, Demarc set out to revolutionize remote work experience with HQ. Designed for the design-focused consumer in the space-challenged city of New York, the HQ aims to change the game in the world of WFH office solutions. Now, you can say goodbye to views of the cluttered desk in your living room and hello to a fully functioning workspace that seamlessly blends into your home's aesthetics.
The standalone unit offers all the essential features of a traditional home office without compromising on space or style. The HQ encourages you to create an office space that not only meets your professional needs but also fades into the background once the work day is over.
Not the only one at home while you're working? HQ's rounded doors can envelop around your desk chair allowing the sound-dampening felt to reduce the noise from your Zoom calls.
Crafted with meticulous attention to detail, the HQ features a powder-coated steel frame and sound-dampening recycled PET felt, ensuring a quiet and focused environment even in the midst of a busy city. Strategically placed cable cut-outs keep your workspace clean and organized, while adjustable feet ensure stability on uneven floors.
Demarc includes two docking stations, allowing you to connect your devices nearby and effortlessly. Whether you need to charge your laptop, connect to an external monitor, or sync your phone, the HQ has you covered. And speaking of monitors, the built-in and adjustable monitor attachment ensures optimal viewing angles for maximum comfort and productivity.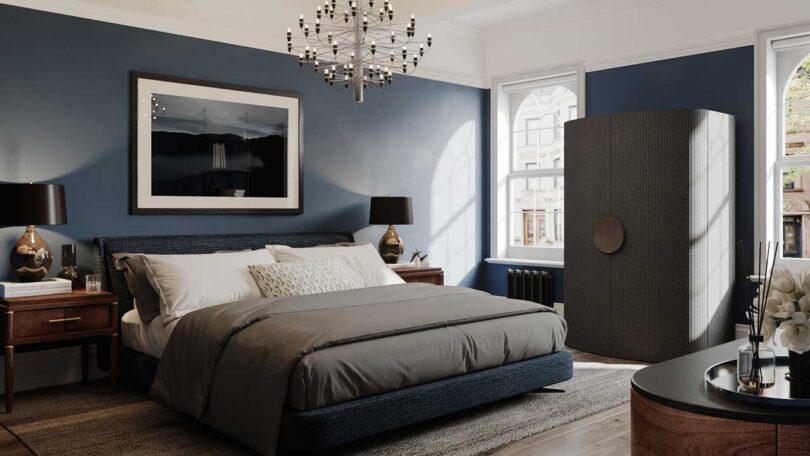 While Chapter Interiors founder, Piper Skillman, and her longtime colleague, Emma Robson, created HQ for other New Yorkers, it looks like you can contact Demarc for shipping to other areas. Currently, HQ is available in Oatmeal and Charcoal, each with the choice of a Washed Oak or Smoked Walnut handle, for $2,375 at demarc.space.
Photography by Demarc and Kate Glicksberg.
Source: design-milk