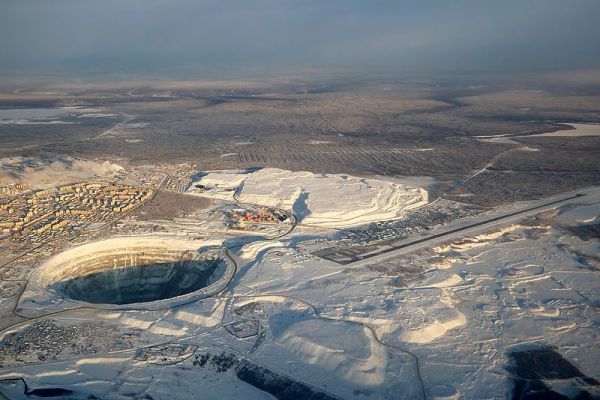 That's a mighty big hole in the ground, judging by the buildings around it! This is the city of Mirny, in Siberia. It's a company town of 37,000 people, centered around the diamond mine that created the pit.
The population is made up of workers who moved here from other Russian regions and former Soviet states, lured by the incentive of a higher than average wages. But with the higher wages comes the higher cost of living. The main access route to Mirny is via the airport and all the food to feed the town has to be flown in, hiking up the price. Whilst the wages may be attractive to some, if you're not in the mining biz you won't reap the one perk of life in Mirny. A school teacher here earns 19,000 rubles a month, that's about $300.
For a small isolated town, Mirny has some intriguing features, such as a national park and a college, which mainly trains students in mining technology. Travel to Mirny is restricted by both logistics and the Russian government, but that may change. The town is trying to reposition itself as a tourist destination! Read about life in Mirny at Messy Nessy Chic.
(Image credit: Igor Dvurekov)
Source: neatorama