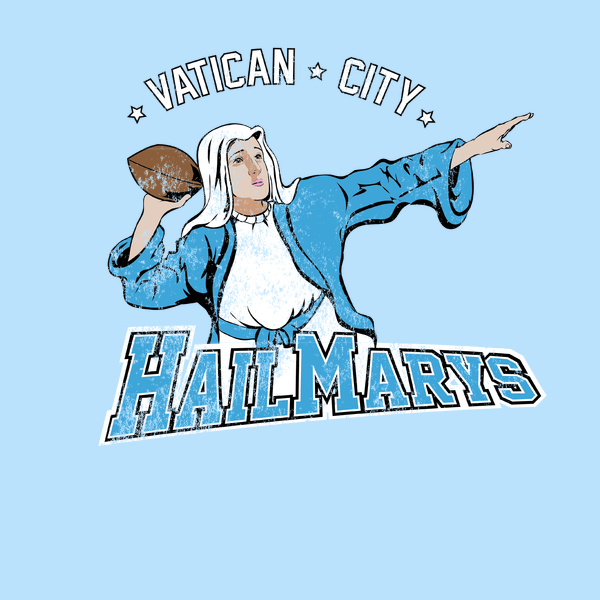 Vatican City Hailmarys by Dansmash
Vatican City has failed to produce a successful sports team because their players are always too humble and reverent to keep their head in the game. They're always either looking up to God or down at their feet in the meekest way possible, which in no way helps them keep track of the ball or the players rushing towards them. But one day while they were trying out the sport of American football they gave the ball to a young lady named Maria, and she hurled that football through the air as if Jesus himself were carrying it aloft on his shoulders. It sailed down the field and landed right in the arms of a priest named Abby who was busy imploring the heavens for help and just so happened to be standing in the inzone, scoring Vatican City's first ever touchdown. And thus the Vatican City Hailmarys were born, and they would rain a blessed storm of pigskin down upon their competition…
Cheer on your favorite Catholic football team with this Vatican City Hailmarys t-shirt by Dansmash, it's a hilarious way to show some love for Mother Mary and her incredible passing skills!
Visit Dansmash's Facebook fan page, Twitter and Tumblr, then head on over to his NeatoShop for more blessedly geeky designs:
View more designs by Dansmash | More Funny T-shirts | New T-Shirts
Are you a professional illustrator or T-shirt designer? Let's chat! Sell your designs on the NeatoShop and get featured in front of tons of potential new fans on Neatorama!
Source: neatorama