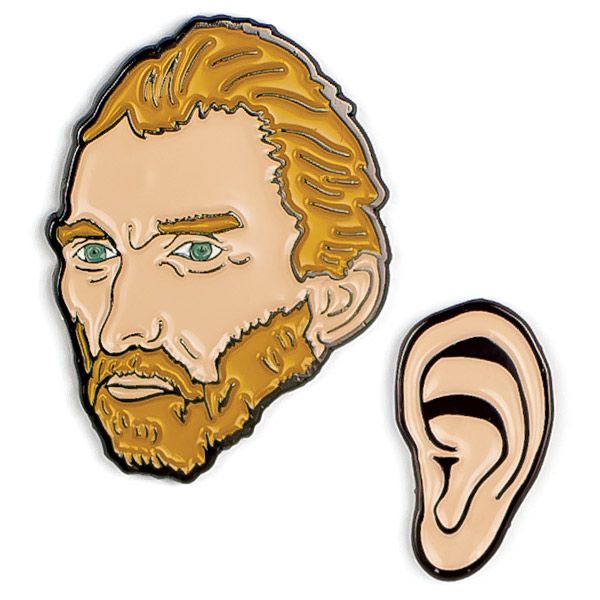 Vincent van Gogh and Ear Enamel Pin Set
Vincent van Gogh is probably one of the most well known post-impressionist painters the world has ever known. He was born in Holland in 1853 and died by complications of a gunshot wound in 1890. Most believe this was a self inflicted and intentional. Records suggest that he admitted to trying to kill himself. Other accounts of the event, however, shed doubt on the story. Perhaps someone else shot him accidentally. It has even been suggested that his suicide letter was not a suicide letter at all. 
Like his death, his life was also filled with mystery. Many of us have undoubtedly heard the gruesome tale of how Vincent van Gogh, in a fit of madness over his brother's engagement, cut off his own ear and gifted the body part to a prostitute. Turns out, however, that this story may also not be true. There have been rumors that there was an altercation between him and his flatmate.  It has been suggested that Guaguin actually accidentally sliced van Gogh's ear from his head.     
Whatever happened to poor Vincent van Gogh we do know one thing for sure, he was an amazing artist. Without him there would be no The Starry Night.   
The Vincent van Gogh and Ear Enamel Pin set is a unique way to pay tribute to your favorite troubled artist. A man who sadly knew no success in life, but in death has become known as one of the greatest Dutch painters of all time. 
Be sure to check out the NeatoShop for more pins. New items arriving weekly. 
Don't forget to also stop by the store to check out our large and growing selection of artwork. We specialize in custom printing of curvy and hard to find sizes. Our t-shirts come in sizes baby 6 months all the way to 10 XL. We know that fun and fabulous people come in every size. 
Source: neatorama