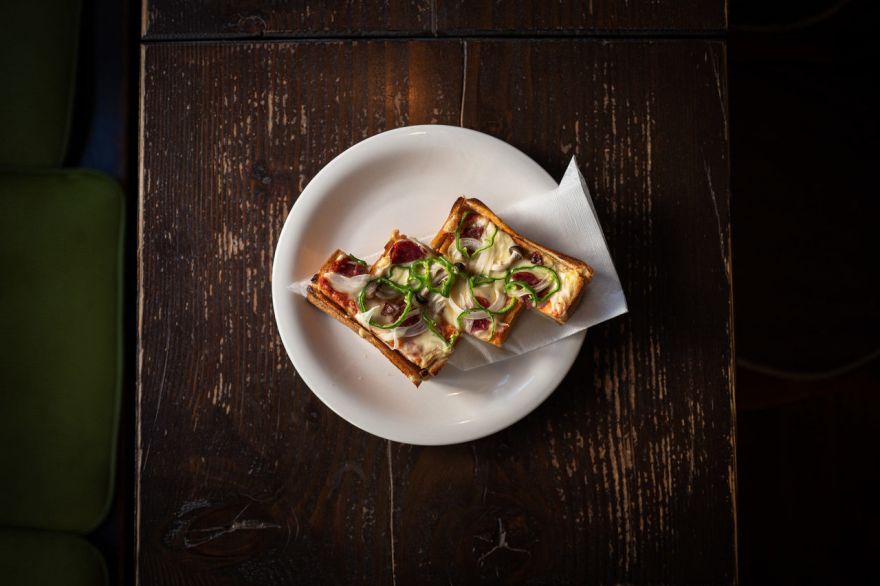 It was twenty years ago since Craig Mod first set foot in Japan. Back then, with his "extremely unsophisticated" palette, Mod did not know what to eat in the land of sushi and natto (fermented soybeans). Fortunately for him, he found a place that he describes as "a sort of bridge space for [him] between where [he] came from and Japan itself." That place was the kissaten, or the kissa coffee shop.
Leather sofa seats, mod bubble lights, elderly patrons smoking at the bar, and thick slices of pizza toast: These are the elements of a typical Japanese kissaten, or kissa coffee shop. Part bar, part restaurant, and part community center, these humble, Shōwa-era cafés serve tea, coffee, alcohol, and delightfully hybrid dishes such as pizza toast. Made of inch and a half thick slices of white bread topped with tomato sauce or ketchup, processed cheese, and whatever toppings the chef has on hand, this gooey, crunchy comfort food is what American writer, photographer, and designer Craig Mod calls "a hug produced in a toaster oven."
The kissaten is a slowly disappearing culture in Japan today, and so Mod decided to pay homage to this culture before it's gone.
Mod pays tribute to pizza toast and these endearing eateries in his new book, Kissa by Kissa, which documents his 1,000-kilometer, 40-day walk across Japan in search of kissa and his favorite menu item. He follows the Nakasendō Route—a historic highway from Japan's Edo period—from his home in Kamakura to Kyoto, often walking eight to 10 hours per day. In lushly detailed photographs and perceptive, punchy texts, we meet charming, octogenarian kissa owners, sample an array of pizza-toast styles, and witness fascinating, fading kissa culture.
Learn more about the kissaten, as well as Mod's journey, over at Atlas Obscura.
(Image Credit: Craig Mod/ Kissa by Kissa/ Special Projects, 2020/ Atlas Obscura)
Source: neatorama