Closing out the WantedDesign Manhattan 2022 Launch Pad program, we're excited to share the final winners, this time for the Best of Students and Schools, a showcase that was sponsored by Alessi and presented with Design Milk this year. 
Taking home the Best of Schools prize, the School of Visual Arts MFA in Products of Design (PoD) wowed the jury with RE-ACTORS, a series of five installations designed to create "re-physicalizing" and "re-socializing" experiences that trigger specific emotional reactions from its visitors. The interactive exhibition is also the annual showing of Design Performance, SVA PoD's course that explores how design influences our daily lives. 
RE-ACTORS is made of five separate parts. Eye2Eye pairs two guests together to stare into each other's eyes; the 20 seconds of extended eye contact leads to feelings of calm and love triggered by the release of oxycontin.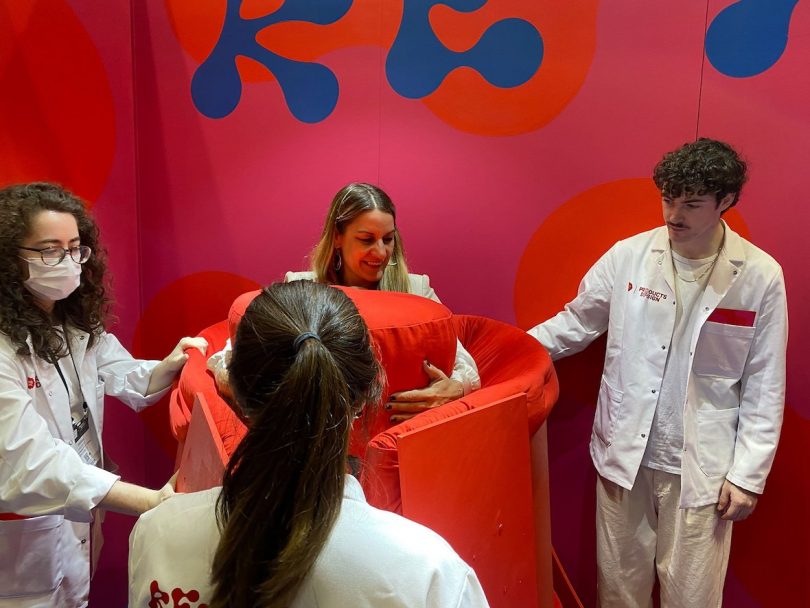 Hugg brings back the lost sensation of an embrace, which was a common gesture pre-pandemic. Guests are embraced by a contraption where inflating pumps gradually apply pressure, recreating the feeling of a hug, releasing mood-boosting chemicals like serotonin and oxytocin, and reducing stress hormones like cortisol.
The Lean structure lets visitors relax into postures that feel safe and predictable even alongside strangers.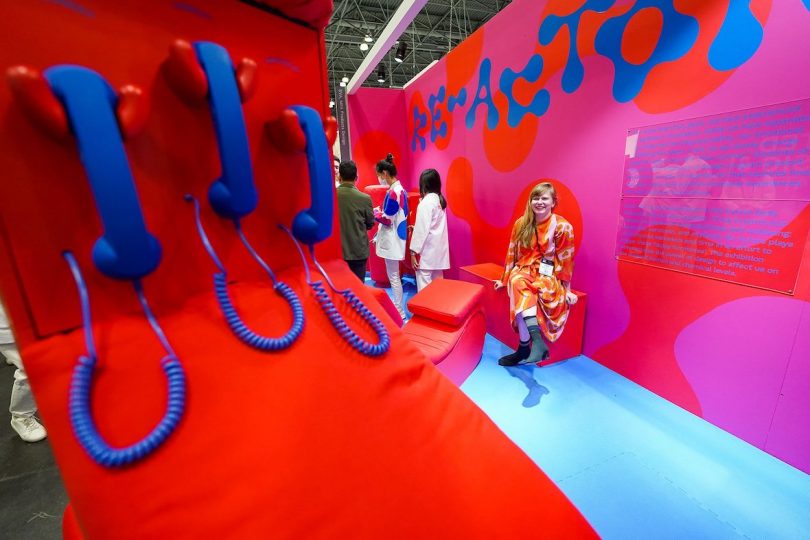 Telephone is the auditory component of the installation where guests can listen to pre-recorded loops of guided meditations and positive affirmations, which can help regulate stress and improve brain function. The structure provides a comforting contoured surface for guests to recline against.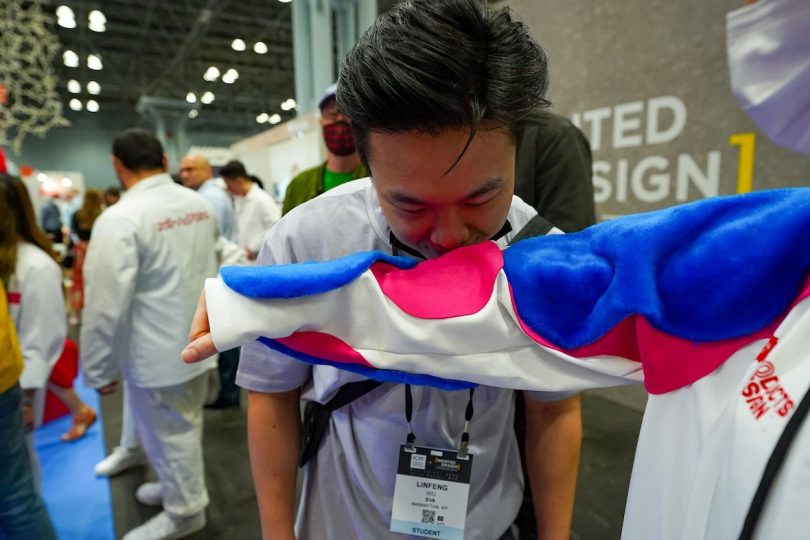 Finally, Scratch & Sniff triggers the olfactory stimuli, which in turn triggers different emotions. Guests sniff different scent patches and try to guess the source. Natural scents trigger serotonin and endorphins while food-related smells trigger nostalgia and prompt the release of dopamine.
For the Best of Students prize, Bill Carroll was chosen for his Dust Chair as part of RISD's Embodied & Imbued exhibition. Carroll, a 2023 MFA candidate for the Department of Furniture Design, is inspired by his upbringing in New Orleans and the craftsmanship of work created in the American south. His Dust Chair borrows from the process of quilting, where discarded materials are pieced together to create a new, meaningful whole product. In this case, sawdust and wood chips are the remnants that have been patched together and given a new lease on life as a simple chair.
Source: design-milk