A large, rugged boulder sits in the middle of the gallery on a sheet of grey metal. From a distance, it could be a piece of minimalist art, a hunk of rock torn off the land. That is, until you realize there's a human inside. 
Abraham Poincheval's work Pierre (French for 'stone') is a performance work that began on February 22, 2017 at the Palais de Tokyo in Paris, and is running through the week. Part-sculpture, part-endurance test, the boulder contains a cut-out section to accommodate the shape of Poincheval's seated body, arms outstretched.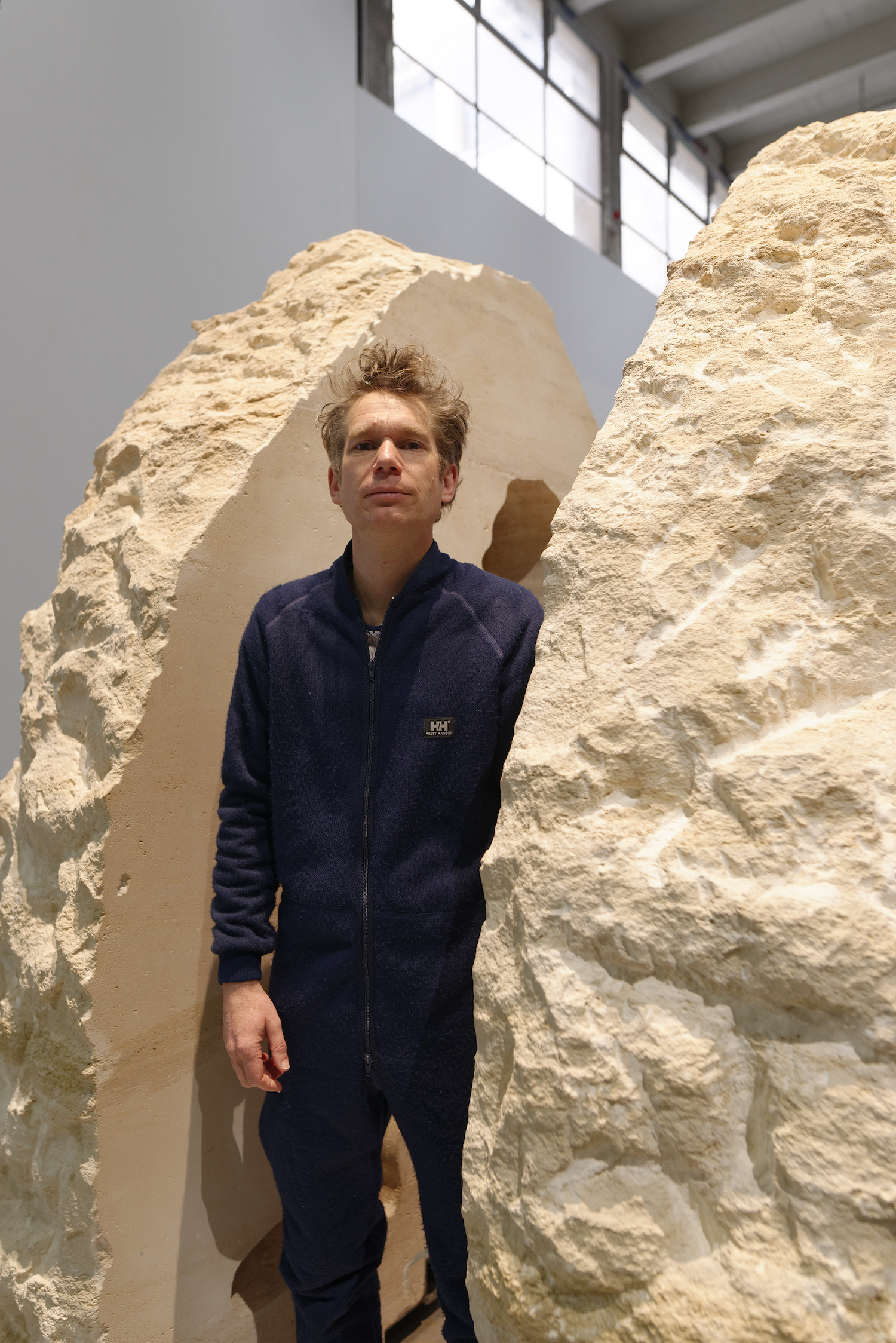 By choosing the 13-ton limestone rock as the material for this work, the artist questions the different timeframes that humans work within. "I will achieve a mineral journey," Poincheval told Creators before he entered his new rock entombment. "For this work, I wanted to experiment [with] another time than ours, to melt in a geological time, much longer than ours and which seems slower. You should see it as a trip at the geological speed."
Poincheval was inspired in his research for this work by the plots of science fiction stories, wherein traditional human attitudes to time are shown to be woefully inadequate. "One story told the story of a man who runs away from his own time with a time machine, towards the future, and who ends up caught in a mountain, because he travelled at geological speed. Another one tells [of] the arrival of aliens on Earth. Compared to them, humans are so slow that they assume they are plants, and end up eating them!" By spending a week inside the rock, Poincheval hopes to align himself with a more universal view of time—a much bigger picture than humans, with their relatively short lifespans, tend to take into account.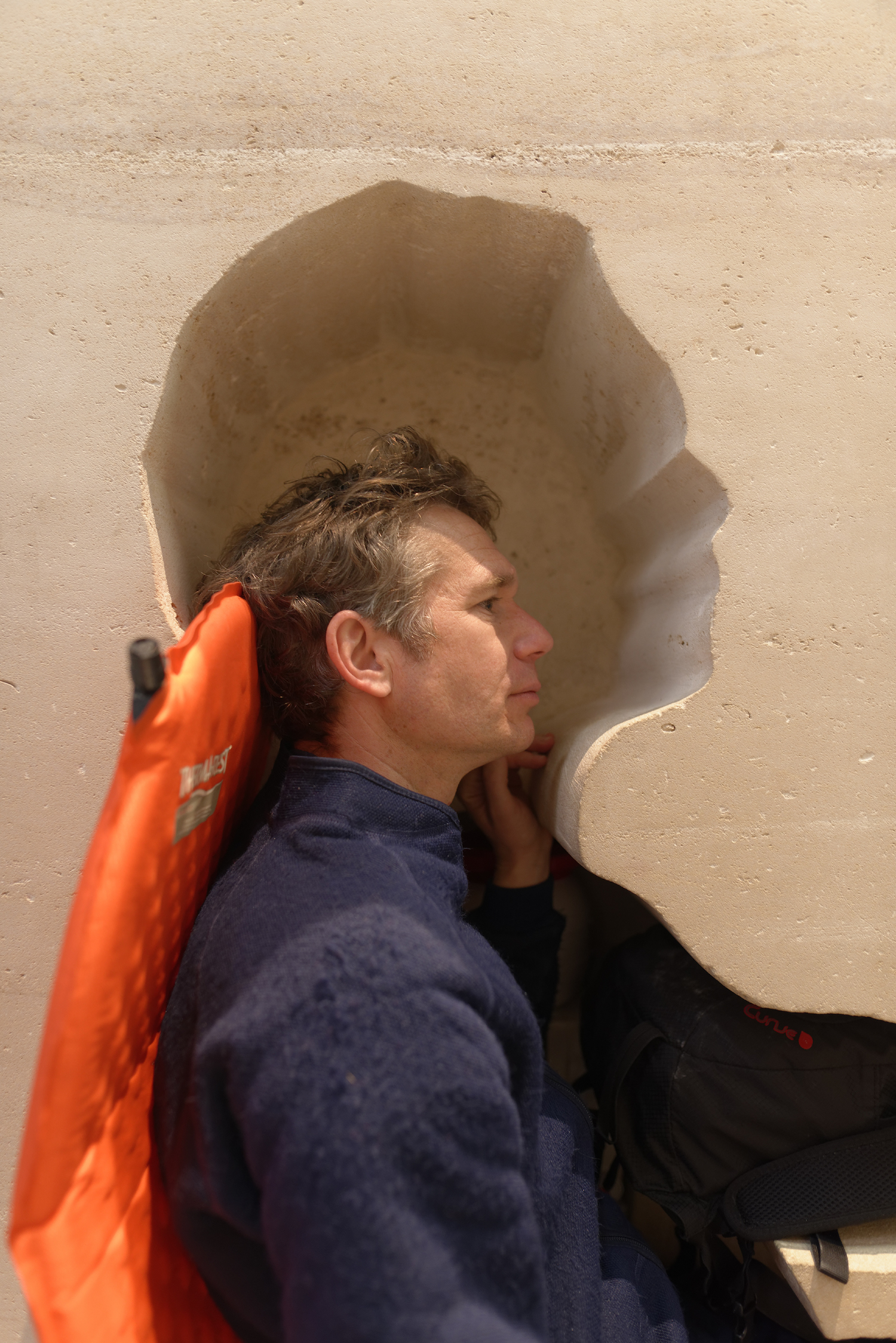 This week-long performance will, of course, test the artist's inner fortitude. Surviving on dried meats, soups, and other liquids, he will be monitored via bore-holes in the rock to ensure his safety. But physicality is only one part of the process of his journey inside the rock. "It is above all a mental preparation," explains Poincheval, who has spent months working towards his week-long confinement. This stamina is a crucial part of the performance for the artist, who sees the work as an exploration of his own solitude. "It is an inner journey which can look like a crystallization," he explains.
The artist is well-versed in this level of endurance, having previously spent two weeks trapped inside a stuffed bear. Another performance, which took place just before Pierre, saw Poincheval traveling up the river Rhône inside a giant transparent bottle, cork and all. After Pierre, he will be performing the work Oeuf (egg), in which he will sit on hen's eggs to incubate them until they hatch.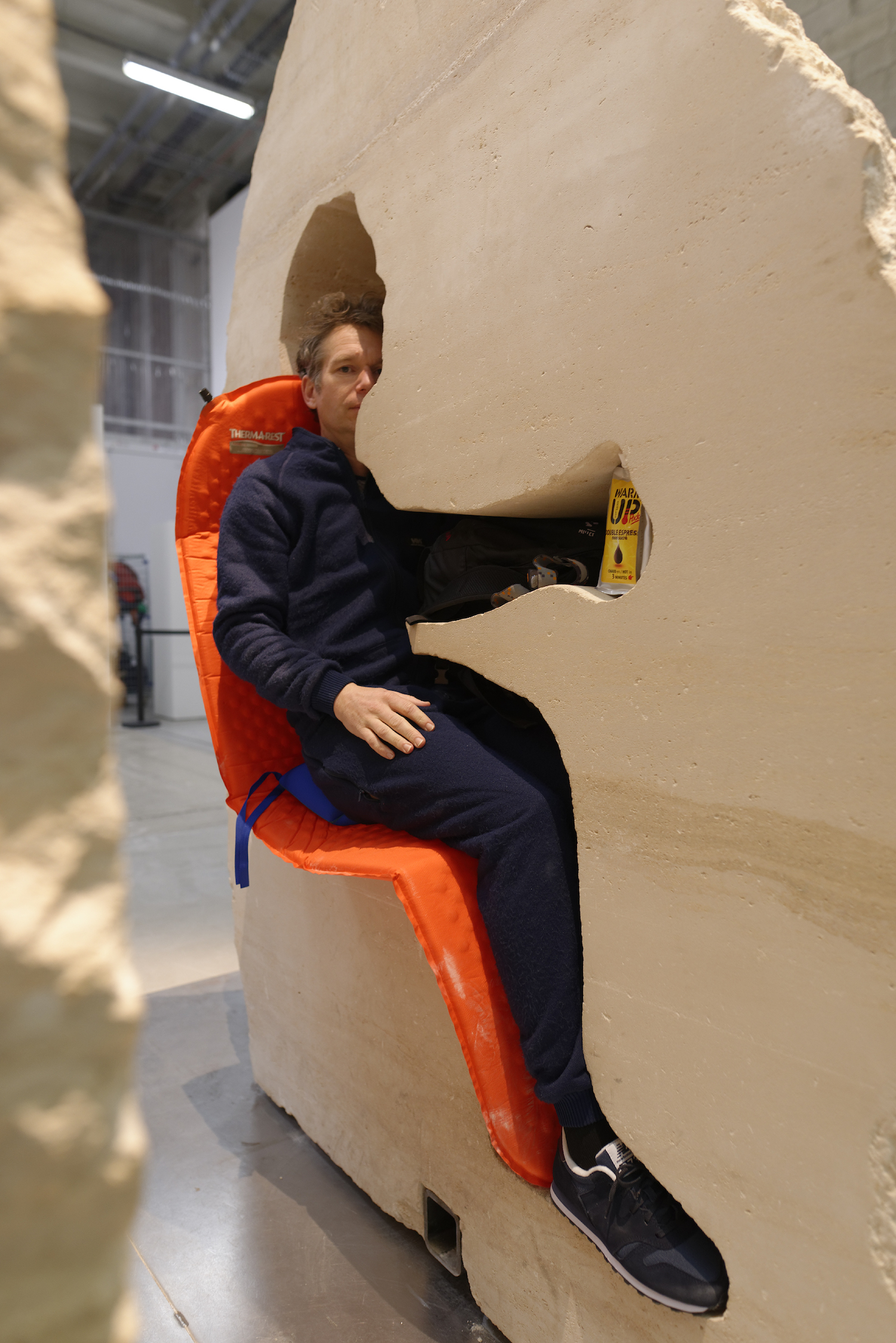 Of course, to the audience outside, the rock in the Palais de Tokyo takes on a different significance. Watching Poincheval's journey through time forms a point of contemplation for the viewer, who can only imagine the artist's journey beyond their vision. Poincheval admits that he would prefer to be able to share more of his view of this voyage with his viewers. "I only wish that they could experience it in its own way, even if for the audience it is more than just an artwork," he says.
Abraham Poincheval's solo show is on at the Palais de Tokyo until May 8, 2017.
Related:
Crawl Inside a Museum-Sized Scotch Tape Web
Take a Hallucinatory Boat Ride Inside a Museum 
What Do Petroleum, a Paris Opera House, and Noah's Ark Have in Common?  
Source: vice.com