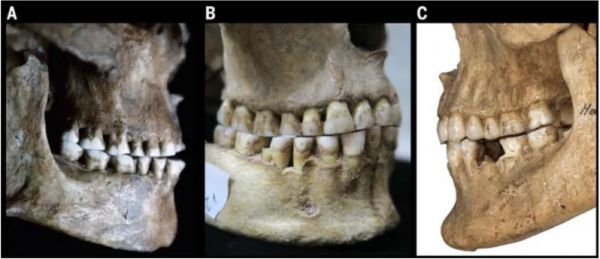 Some of the sounds we use every day, like "f" and "v" weren't used in early hunter-gatherer societies because they were so physiologically difficult. Those sounds are called labiodentals, as they use the top teeth against the lower lip. A new study describes how the orientation of our teeth had to change to make those sounds possible, and that was startlingly recent.
Here's the story, as presented in the new study: Around 8,000 years ago, as humans transitioned from predominantly meat-eating lifestyles to agriculture, the foods our ancestors ate became softer, which had a pronounced effect on the human bite. Instead of the edge-on-edge bite exhibited by hunter-gatherers, who had to tear into tough meat, agricultural humans retained the juvenile overbite that usually disappears by adulthood. With the upper teeth slightly in front of the lower teeth, it became much easier to make labiodental sounds. Gradually, and quite by accident, these sounds were integrated into words, which eventually spread across time and space, most notably within the last 2,500 years.
Imagine being declared an adult because your teeth moved into a different position. The authors of the study consider the change to be a result of developing a modern diet. Read about the research at Gizmodo.
(Image credit: D. E. Blasi et al., 2019/Science)
Source: neatorama