Design studio we+ is on a mission to create a better dialogue between humans and nature by revealing the beauty present throughout the lifecycle of natural materials. Their unique perspective, alternative approaches and technology makes starting the conversation possible.
It's becoming more and more apparent that we're no longer using buildings to their fullest potential. Commercial buildings in Japan have an average lifespan of only five to ten years: construction, demolition, disposal. Reducing waste and recycling materials has become a major issue.
we+'s Link project, a part of the Semba Ethical Design Thinking activities, focuses on discarded building materials from the demolition of commercial buildings, as well as mock-up materials from the planning and design phases. Though functional, these materials are being considered non-reusable. Link is exploring what possibilities exist besides material recycling and thermal recycling, such as disassembling and reconstructing building materials that have lost their original functionality.
we+ takes waste building materials such as wood, metal and brick, crushing them into small pieces before solidifying with different degrees of granularity. The larger grains are used as pattern-creating materials, and the fine grains are transformed into pigments. The oxidation of the metal gives added depth to the expression of the material created. Afterwards, the materials are molded into a modular system that can be used to make everything from furniture to wall surfaces. we+ plans to continue with these sustainable studies in an effort to find a way of incorporating mass-produced and consumed materials into a recycling system.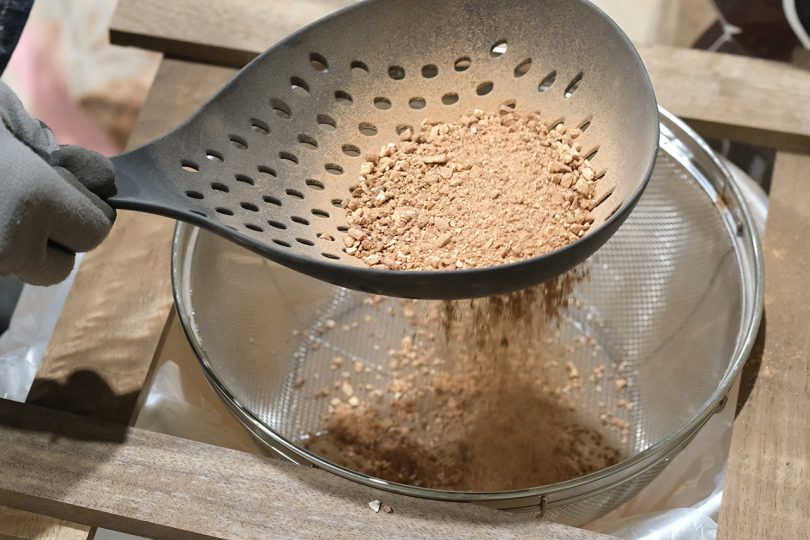 To learn more about Link, visit weplus.jp.

Source: design-milk