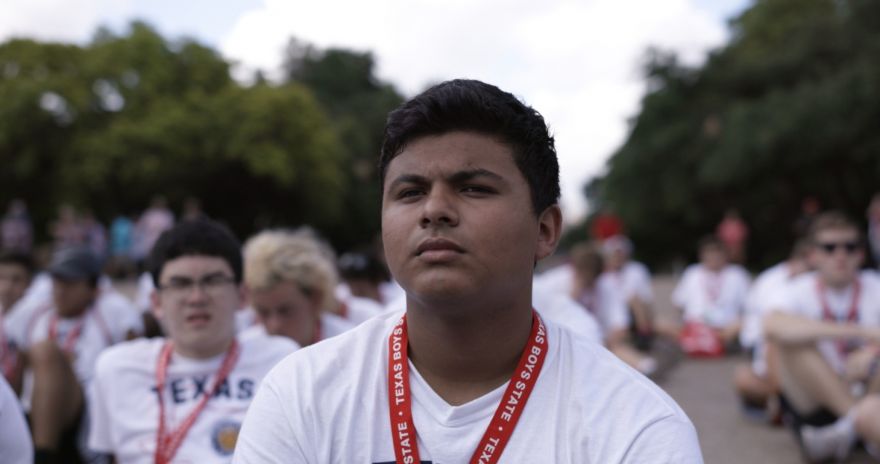 Now that question just sounds like a situation straight out of Lord Of The Flies. Don't worry, no one has a tragic end in this one. The Boys State program is a one big civics lesson orchestrated annually by the American Legion, with each state hosting its own weeklong gatherings of high school juniors. The program has a lot of safeguards that prevent murder, don't worry! Hyperallergic has more details:
The Texas Boys State program randomly sorts the teens into two political parties, the Nationalists and Federalists, with each party then electing various representatives, leaders, and a nominee for governor over the course of the week. Along the way are myriad public debates and mock legislative sessions, held at the University of Texas at Austin, which becomes a miniature self-enclosed society. (Again, one composed entirely of pubescent males, so basically Hell.) The gubernatorial election is the big climax that events are working toward, and the film's main characters are the respective parties' candidates and chairmen chairboys.
The Federalists play the more villainous role, particularly Ben Feinstein, a wannabe CIA agent who uses his position as chair to get a disquietingly savvy head start on ratfucking the opposition. Said opposition consists of two Nationalists who both stand out for being liberal, non-aggro POC in an overwhelmingly white, right-wing, and fratty environment. They skillfully use their rhetorical skills to bypass the biases stacked against them. Rene Otero wins over the party to become chair, while Steven Garza gamely earns their nomination for governor with a message of unity and a straight-shooting persona (he cites Bernie Sanders as his inspiration for getting into politics, God bless).
image screenshot via Hyperallergic
Source: neatorama