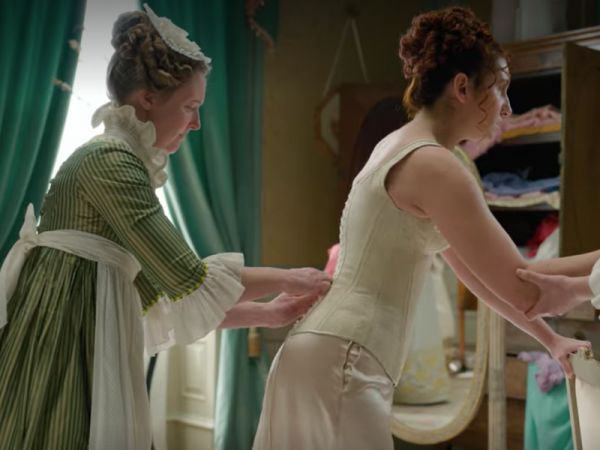 The Netflix series Bridgerton takes place in England between 1813 and 1827, which is known as the Regency Era. In the opening scene of the first episode, we see a maid lacing up a woman ever-tighter in her corset. The scene is a metaphor that's quite common in period dramas, signaling how woman had no freedom, and were constrained by societal expectations to shape themselves into someone acceptable, no matter the pain or effort involved.
The trouble is that nearly all of these depictions are exaggerated, or just plain wrong. This is not to say "Bridgerton" showrunner Shonda Rhimes erred in her portrayal of women's rights during the early 19th-century Regency era—they were indeed severely restricted, but their undergarments weren't to blame.

"It's less about the corset and more about the psychology of the scene," says Kass McGann, a clothing historian who has consulted for museums, TV shows and theater productions around the world and who founded and owns the blog/historical costuming shop Reconstructing History, in an email.

Over four centuries of uncountable changes in fashion, women's undergarments went through wide variations in name, style and shape. But for those whose understanding of costume dramas comes solely from shows and movies like "Bridgerton," these different garments are all just lumped together erroneously as corsets.
There's nothing wrong with using metaphors in movies or TV to make a point, but if you want historical information about women and their underwear, period dramas aren't the most accurate source. Learn how corsets and other foundation garments were really used in the Regency Era and beyond at Smithsonian.
Source: neatorama