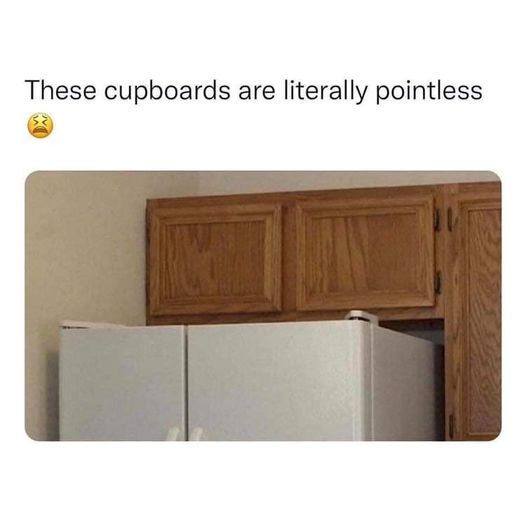 What do you store in the cabinet over the refrigerator? Redditor phalangeslemon posted this picture that terms this cupboard "literally pointless." That makes sense: the cabinet is too high for most people and the large American refrigerator makes it even more difficult to reach. But people aren't about to let storage space go to waste. in the replies, many explained that this cupboard is for Christmas kitchenware that's only retrieved once a year, like serving platters and cookie cutters. Others described the rarely- or never-used items they stored there, such as picnic supplies or fondue pots. A few tall guys hide their treats or alcohol from the rest of the household over the refrigerator. And some said they have no idea what is up there because they stack cereal boxes on top of the refrigerator, blocking the cabinet doors.
I went to look at my refrigerator cupboard. On the more accessible side, I have things I don't use often, like a hand mixer, rolling pin, meat grinder, and an electric knife that I have only used once because I don't like it and forgot about it. I went to the less accessible side and oh my. It's full of parts and accessories for kitchen gadgets I no longer own. Maybe I should get the ladder and clean it out. Have you checked your inaccessible cabinet lately? What's up there (if you don't mind sharing)?
POLL: What's in the cabinet over your refrigerator?
Nothing
Holiday kitchen items
Gadgets I use once in a great while
Gadgets I never use
Liquor
Hidden sweets
Things I stashed then forgot about
I have no idea
Something else I will explain in the comments
Source: neatorama